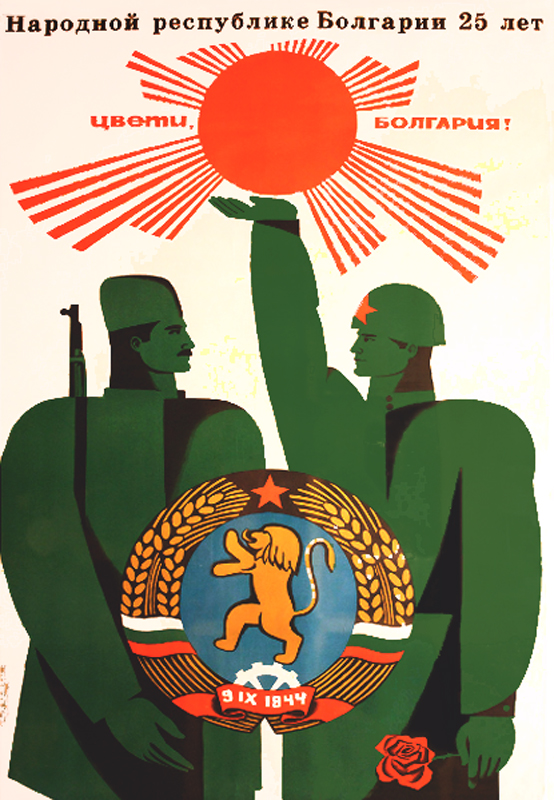 Artist: Vertogradov, Evgenii Arkad'evich — Вертоградов, Евгений Аркадьевич
Evgenii Arkad'evich Vertogradov was born in Moscow and his father was a dramatic theater actor. At the young age of eleven, his family enrolled him in the Moscow Secondary School of Art. In 1960, Vertogradov enrolled in the V.I. Surikov State Art Institute where he applied himself to graphic design. He launched his professional career in 1966 by working in the propaganda arts whereby he collaborated with the publishing houses of Sovietskii Khudozhnik [Soviet Artist], Izobrazitel'no...
Read More About This Artist
Printer: Kalinin City Poligrafkombinat — Полиграфкомбинат, Калинин
The Kalinin Poligrafkombinat (printing plant) was located at 5 Lenin Avenue (formerly Voroshilov Street) in the city of Kalinin (Tver) northwest of Moscow. Throughout its existence, the printer was allocated different names depending on the various state-owned trusts that handled its operations. For example, in the mid-1950s to early 1960s, the plant was a contract printer for Sovnarkhoz RSFSR (Regional Council of National Economy of the Russian Socialist Federative Soviet Republic). Sovnarkhoz was an economic ...
Read More About This Printer
Publisher: Izobrazitel'noe Iskusstvo (Fine Art Publishers) — Изобразительное Искусство
Founded in 1963, Izobrazitel'noe Iskusstvo (Fine Art Publishers), was dedicated to producing monographs, books, textbooks and study guides on the visual arts. It also published postcards and posters. Prior to the publisher's organization, Izogiz (State Publishing House of Fine Art) produced the lion's share of fine arts material for publication in the USSR and abroad.
Read More About This Publisher