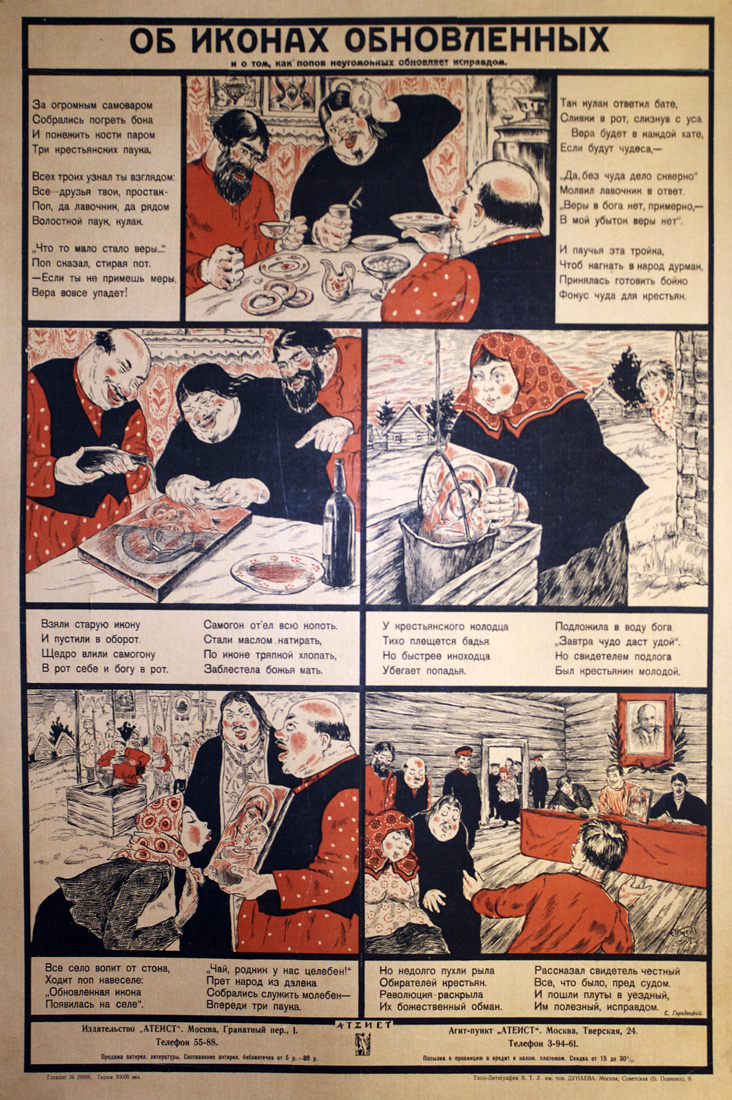 Artist: Illegible Name — Неразборчивое Имя
Printer: Typolithography of Geokartprom of the V.T.U. (Military Topographic Directorate of the Soviet Army), Moscow — Типо-Литография Геокартпрома В.Т.У. (Военно-топографическое управление), Москва
In 1918, the Soviets nationalized the Moscow printing works of brothers Wilhelm Theodor Mehnert and Herman Julius Mehnert at 9 Bol'shaia Polianka (later named Soviet Street). The building housing the printer was first occupied by the Julius Kirsten printing firm. Upon its nationalization, the Soviets placed Mehnert printing under Geokartprom, a State-owed trust of the Commissariat of Defense that centralized government-mapping projects. Geokartprom printed atlases and maps solely for military and government use. While it did map ...
Read More About This Printer
Publisher: Atheist Publishing House, Moscow — Издательство Атеист, Москва
Atheist Publishing House existed from 1922 until 1930 at 1 Granatnyi Alley in Moscow. The publishing house was developed by P.A. Krasikov and I.A. Shpitsberg to disseminate works criticizing religion. By 1931, "Atheist" was taken over by the anti-religious newspaper Bezbozhnik (Godless) that was produced by the League of Militant Atheists.
Read More About This Publisher