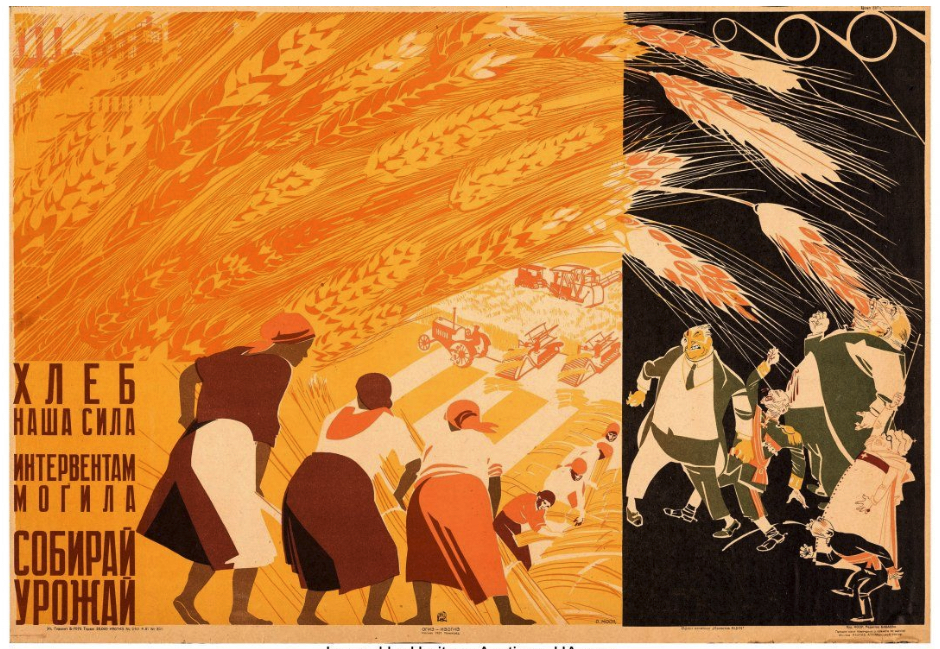 Artist: Moor (Orlov), Dmitrii Stakhievich — Моор (Орлов), Дмитрий Стахиевич
Dmitrii Stakhievich Moor (birth surname Orlov) was born into the family of a mining engineer and did not receive formal artistic education. After moving to Moscow in 1898, and between 1902 and 1906, he actively participated in the city's revolutionary movement, specifically taking part in the failed 1905 Revolution. While working at the Anatolii Mamontov printing shop, he submitted his drawings to periodicals. In 1908, he began to publish his cartoons in satirical journals, namely in Budil'nik [Alarm Clock]. Wh...
Read More About This Artist
Printer: Izvetsiia (News) All-Union Central Executive Committee Typography Offset Print Shop — Офсет в типографии Известия ЦИК СССР и ВЦИК
Izvestiia (News) All-Union Central Executive Committee Typography Offset Print Shop was located in Moscow and it printed the Izvestiia newspaper. Both Izvestiia and Pravda (Truth) were the leading newspapers in the Soviet Union despite the Soviet-era joke that quipped, "there is no news in Pravda and no truth in Izvestia". Among the longest-running of all Russian newspapers, Izvestiia was founded in Petrograd (St. Petersburg) in March 1917 and was an organ of the Petrograd ...
Read More About This Printer
Publisher: Ogiz-IzoGiz, Moscow-Leningrad — Огиз-Изогиз, Москва-Ленинград
Ogiz was the Association of the State Book and Magazine Publishers. Its main offices were located in Moscow and in Leningrad. The Sovnarkom of the Russian Socialist Federative Soviet Republic established Ogiz in 1930 to centralize publishing activities under a state monopoly in order to eliminate duplication of printed material, streamline and control publishing production and output, and to create a base for marketing books, training and technical manuals. In 1931, the Central Committee of the USSR ...
Read More About This Publisher