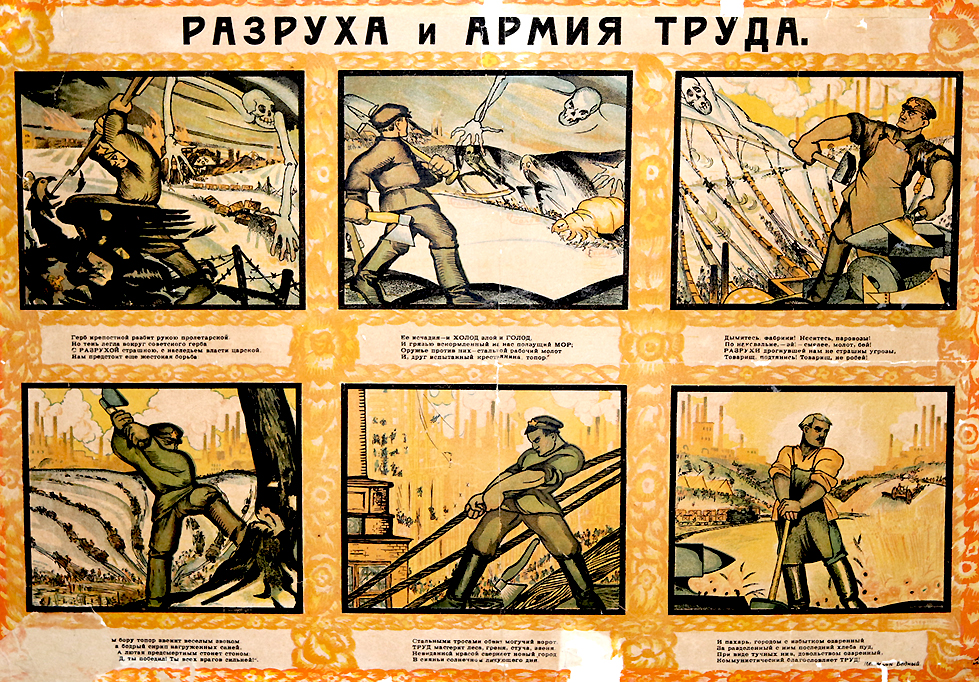 Artist: Kochergin, Nikolai Mikhailovich — Кочергин, Николай Михайлович
In the history of Soviet political posters, Nikolai Mikhailovich Kochergin is considered one of its pioneers. In 1918, Kochergin graduated from the Stroganov Central Industrial Art College where he later ventured into the professional world of graphic design. During the Russian Civil War, he supervised a poster publishing house and workshop in Kharkov, Ukraine. He was also one of the primary organizers of the Baku, Azerbaijan ROSTA (Russian Telegraph Agency) artist group that circulated posters throughout ...
Read More About This Artist
Printer: Printer not indicated —
Publisher: State Publishing House, Moscow — Государственное издательство, Москва
In May 1919, the All-Russian Central Executive Committee created the State Publishing House of the RSFSR (Russian Soviet Federative Socialist Republic), Moscow. The State Publishing House had its origins in Imperial Russia as the Royal Print Yard in St. Petersburg. As the Red Army controlled more provinces and cities in former Imperial Russia, the State Publishing House developed offices outside St. Petersburg. The State Publishing House, Moscow is sometimes cited in historical references as the "...
Read More About This Publisher