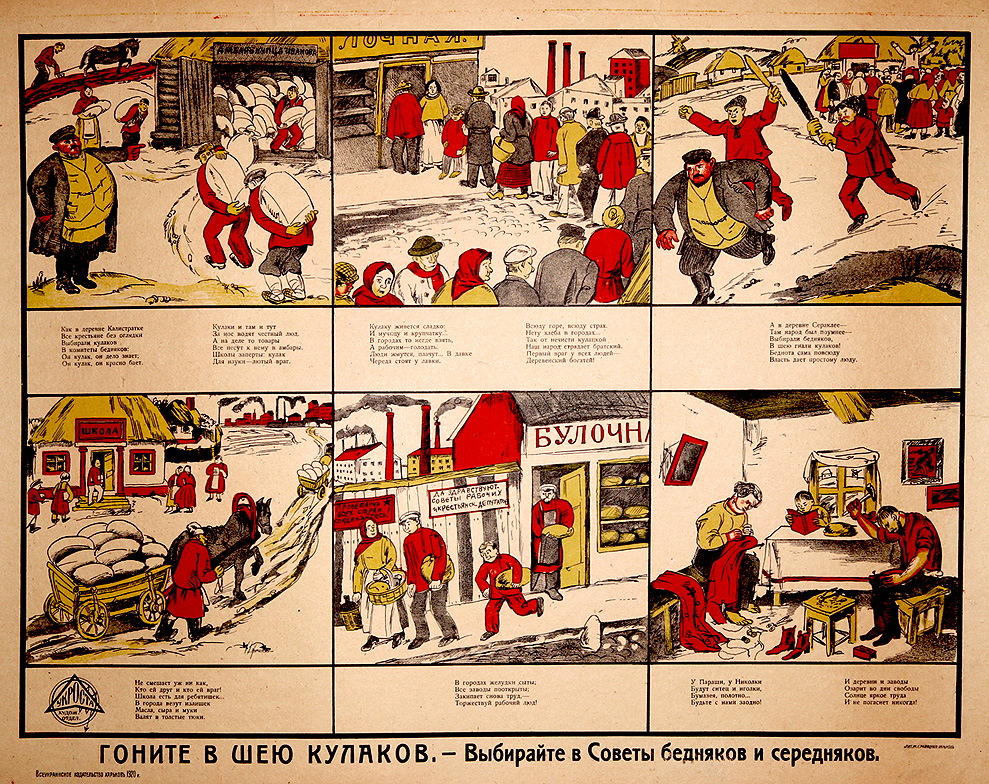 Artist: UkROSTA (All-Ukrainian Bureau of the Russian Telegraph Agency) — УкРОСТА (Всеукраинского бюро Российского телеграфного агентства)
UkROSTA was a Soviet news organization founded in January 1920. Its creation served to replace the Bureau of the Ukrainian Press. While UkROSTA was a news organization, it also employed a cadre of artists to design posters for publication. Frequently, the artists (working as a collective) did not attribute their names to the artwork they designed for UkROSTA.
Read More About This Artist
Printer: Lithography Workshop of M.G. Ravitskii, Kharkov — Литография М. Г. Равицкий, Харьков
Little published information is available on the Kharkov-based lithography workshop of M.G. Ravitskii. However, Ravitskii was likely a working artist before and during the Soviet-era. Published sources from the Soviet Union indicate Ravitskii had a printing business in Kiev. Beyond that, Ravitskii's name appears as an artist in at least one 21st century Russian publication on graphic art during World War I.
Read More About This Printer
Publisher: All-Ukrainian State Publishing House — Всеукраинское издательство (Всеукриздат)
All-Ukrainian State Publishing House (Vseukrizdat) was founded in 1919 as the State Publishing House of Ukraine and its formation was based upon a directive by the All-Ukrainian Central Executive Committee. The publishing house had branches in the cities of Kharkov, Kiev, Volyn', Poltava and other locations in Ukraine. In 1920, the publisher was renamed All-Ukrainian State Publishing and in 1922, the publisher was renamed DVU (Derzhavne vydavnytstvo Ukrainy). DVU became the largest publisher in Soviet Ukraine and the ...
Read More About This Publisher