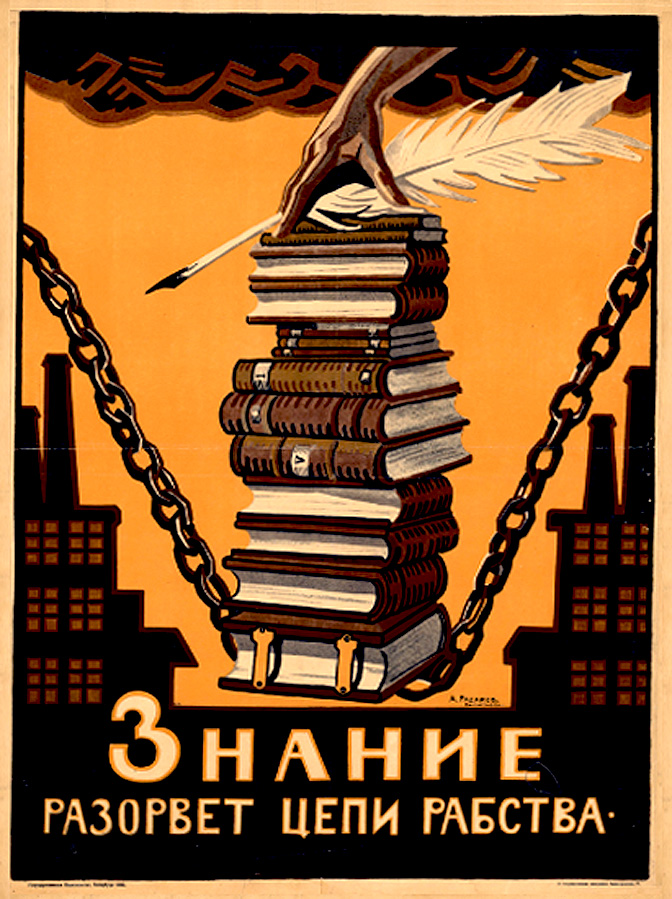 Artist: Radakov, Aleksei Aleksandrovich — Радаков, Алексей Александрович
Aleksei Aleksandrovich Radakov was a Soviet graphic artist. In 1900, he graduated from the Moscow School of Painting, Sculpture and Architecture and continued his education by enrolling in the St. Petersburg TsUTR (Central School of Technical Drawing) -- also known as Stieglitz Academy. Thereafter, Radakov developed his skills by taking private lessons and he contributed cartoons and illustrations to satirical journals. Prior to the Russian Revolution of 1917, Aleksei Radakov worked as a theater set designer and ...
Read More About This Artist
Printer: 15th State Typography Workshop, Petrograd [St. Petersburg] — 15-я Государственная типографская, Петроград
The 15th State Typography Workshop began its history as the lithographic partnership of Roman Golike and Artur Vil'borg from 1902 to 1918. It was located at 11 Zvenigorodskaia Street in Petrograd (St. Petersburg). After being nationalized shortly after the October Revolution, it became the 15th State Typogaphy. In 1922, the printer was placed in the State-controlled printing trust of Petropechat' and it was renamed in honor of Ivan Fedorov (c.1525-1583) who is often referred to as the fi...
Read More About This Printer
Publisher: State Publishing House, Peterburg [St. Petersburg, Russia] — Государственное издательство, петербург
The State Publishing House had its origins in Imperial Russia as the Royal Print Yard in St. Petersburg. The Soviets nationalized the print yard in 1917 and requisitioned its presses. Out of the requisitioning emerged the Publishing House of the Petrograd (St. Petersburg) Soviet formed in the winter of 1917 by the Literary and Publishing Department of People's Commissariat for Education.
Read More About This Publisher