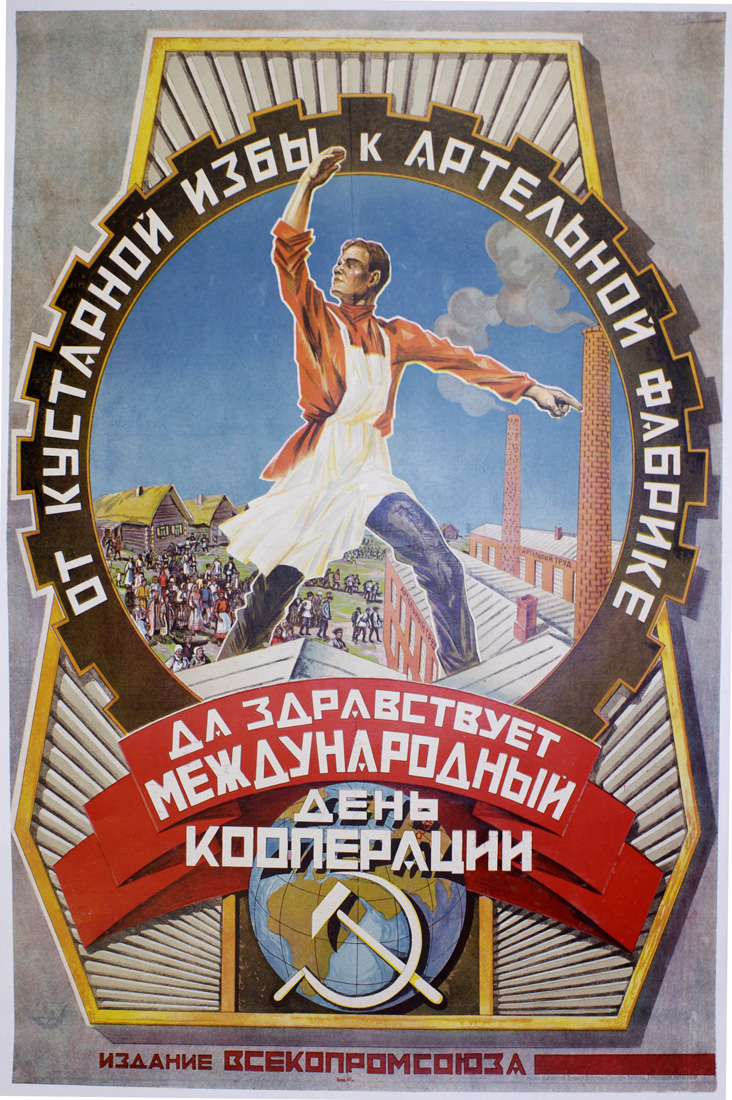 Artist: Artist Unknown — неизвестный художник
The artist's name on the poster is not indicated. By assigning Artist Unknown to a poster it also could mean the artist used a chop mark whereby no signature is seen thus rendering the artist's identity anonymous.
Read More About This Artist
Printer: Trudovoi Lithography [Worker's Cooperative], Leningrad — Литография Трудовой [артель], Ленинград
Trudovoi (Labor) Lithography was a print cooperative based in Leningrad (St. Petersburg) at 14 Kovenskii Lane. Prior to it being nationalized by the Soviets, the firm belonged to the journalist and publisher Sergei Emel'ianovich Dobrodeev (1846-1910) and his family. Historically, Dobrodeev's firm extended back to the 1880s. It employed a staff of 250 and it also maintained a printing school. The firm printed the literary journal Syn Otechestva (Son of the Fatherland) and it served as editor ...
Read More About This Printer
Publisher: Vsekopromsoiuz (All-Russian Union of Industrial Cooperatives) — Всекопромсоюз
A decree of March 1919 placed the Bolshevik Party in control of all consumer cooperatives. In January 1920, the cooperatives were merged into a single union called the "consumers' collectives". In 1921, the government formed the All-Russian Union of Villagers (Sel'skosoiuz) and in 1922 it formed the All-Russian Union of Industrial Cooperatives (Vsekopromsoiuz).
Read More About This Publisher