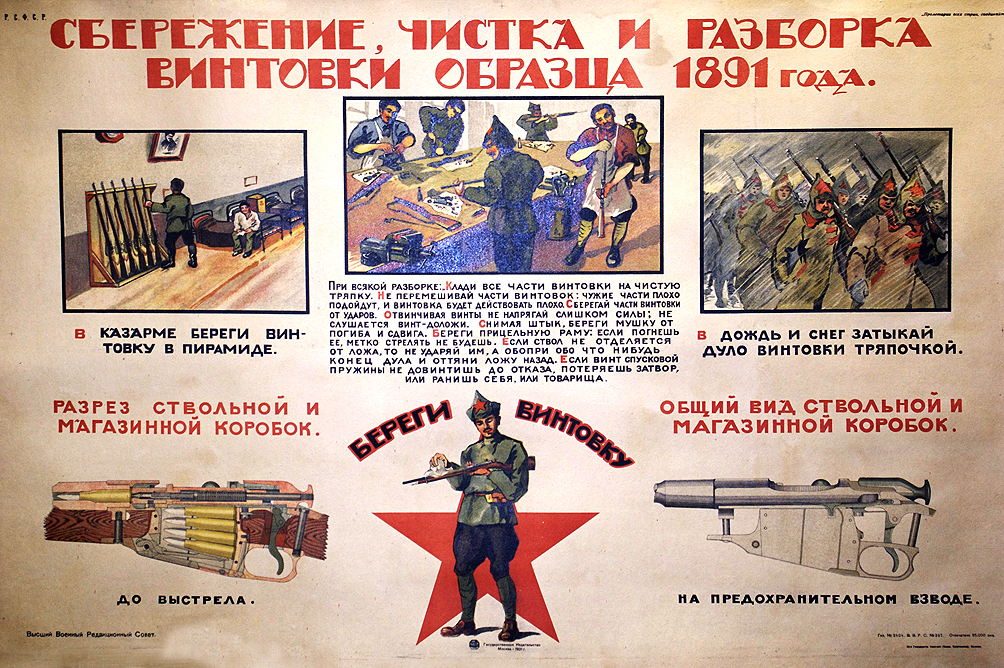 Artist: Artist Unknown — неизвестный художник
The artist's name on the poster is not indicated. By assigning Artist Unknown to a poster it also could mean the artist used a chop mark whereby no signature is seen thus rendering the artist's identity anonymous.
Read More About This Artist
Printer: 20th State Typolithography Workshop, Moscow —
Russian entrepreneur Ivan Kushnerev founded the Ivan Kushnerev & Company Printing Shop in 1869 in Moscow. When Kushnerev died in 1896 his printing company was one of the largest in Imperial Russia. The Kushnerev shop was nationalized by the Soviets in 1919. By 1921, it was re-named the 20th State Typolithography Workshop and then, it became the 3rd Krasnii Proletarii Book Printing Plant around the time that its location (on Pimenovskaia Street) was re-named Krasnoproletarskaia (Red Proletarian) Street.
Read More About This Printer
Publisher: State Publishing House, Moscow — Государственное издательство, Москва
In May 1919, the All-Russian Central Executive Committee created the State Publishing House of the RSFSR (Russian Soviet Federative Socialist Republic), Moscow. The State Publishing House had its origins in Imperial Russia as the Royal Print Yard in St. Petersburg. As the Red Army controlled more provinces and cities in former Imperial Russia, the State Publishing House developed offices outside St. Petersburg. The State Publishing House, Moscow is sometimes cited in historical references as the "...
Read More About This Publisher