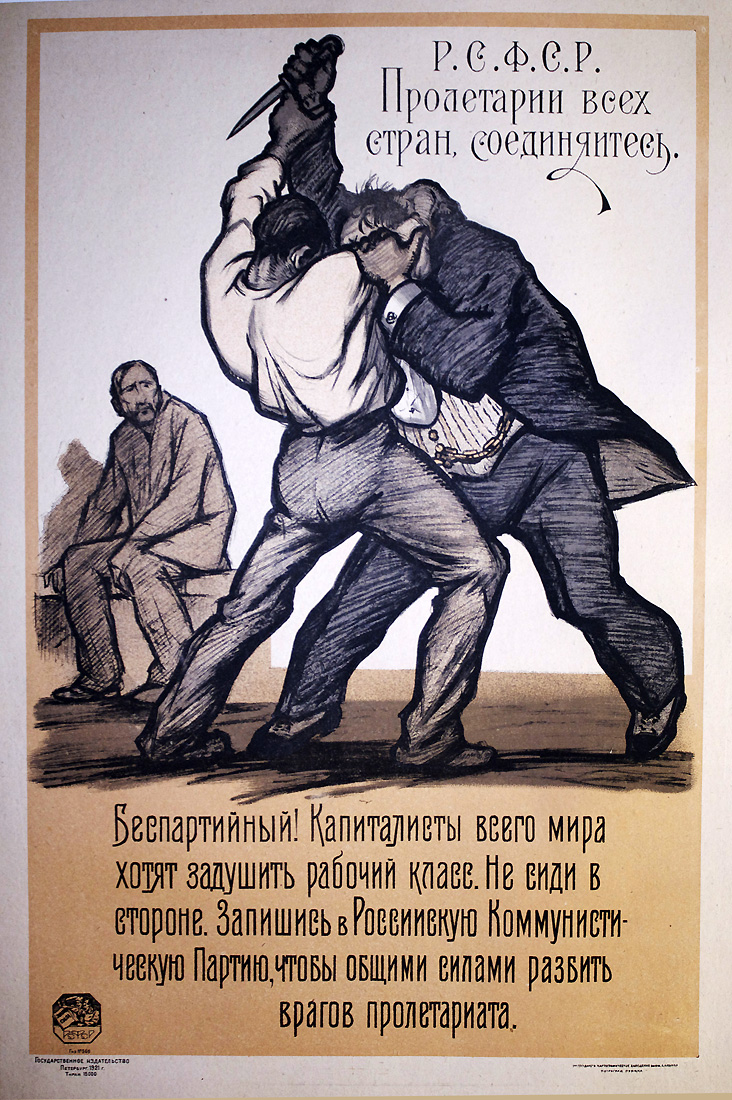 Artist: Artist Unknown — неизвестный художник
The artist's name on the poster is not indicated. By assigning Artist Unknown to a poster it also could mean the artist used a chop mark whereby no signature is seen thus rendering the artist's identity anonymous.
Read More About This Artist
Printer: 1st State Cartographic Institution, Petrograd — 1-е Государственное картографическое заведение, Петроград
The 1st State Cartographic Institution was located on the Priazhka Embankment in Petrograd (St. Petersburg). Prior to being nationalized by the Soviets in 1918; the printing house belonged to Aleksei Alekseevish Il'in (1858-1942) who was a cartographer, business leader, and a member of the St. Petersburg State Council of Elections. Founded in 1859, Il'in's company was the first private cartographic business in St. Petersburg to produce and publish military maps, railway maps, and atlases prior to the ...
Read More About This Printer
Publisher: State Publishing House, Peterburg [St. Petersburg, Russia] — Государственное издательство, петербург
The State Publishing House had its origins in Imperial Russia as the Royal Print Yard in St. Petersburg. The Soviets nationalized the print yard in 1917 and requisitioned its presses. Out of the requisitioning emerged the Publishing House of the Petrograd (St. Petersburg) Soviet formed in the winter of 1917 by the Literary and Publishing Department of People's Commissariat for Education.
Read More About This Publisher