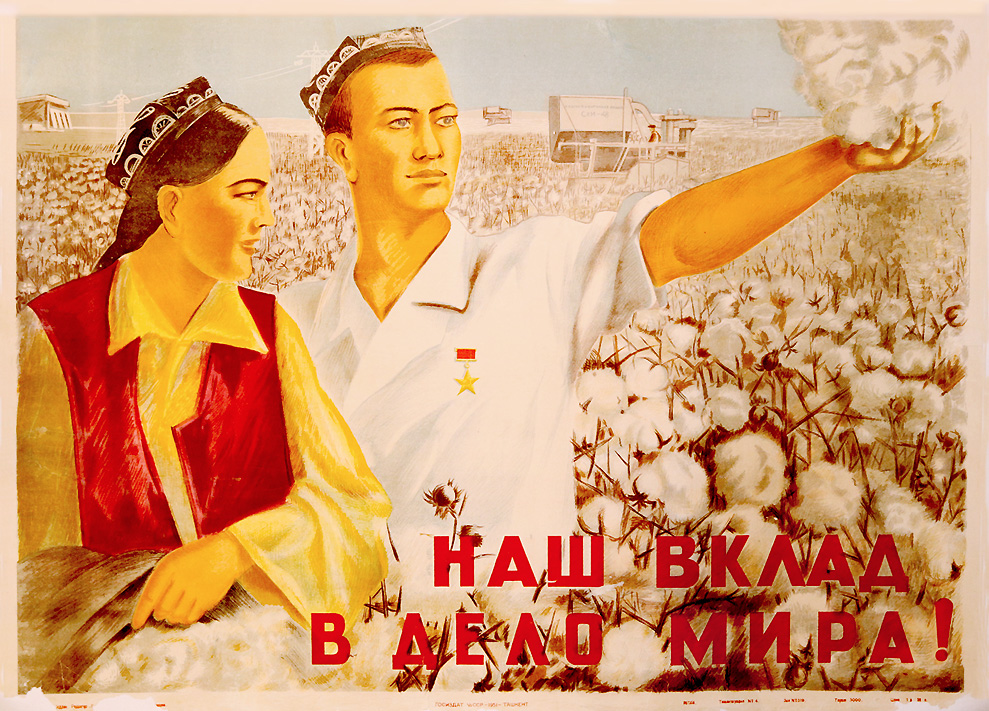 Artist: Illegible Name — Неразборчивое Имя
Printer: Typolithography No. 4 of the Uzbek Polygraph Publishing Trust, [Tashkent] — Типо-литография № 4 Узбекполиграфиздата, [Ташкент]
Typography No. 4 was located in Tashkent, Uzbek Soviet Socialist Republic. It was in operation during the 1950s. The typography was under the management of the Uzbek Polygraph Publishing trust that was formed in 1949 out of the Press Department of the Uzbek Republic.
Read More About This Printer
Publisher: Gosizdat (State Publishing House) — Госиздат (Государственное издательство)
Gosizdat was established in Moscow in May 1919 via the merger of the publishing departments of VTsIK (All-Russian Central Executive Committee), the Moscow Soviet, the Petrograd (St. Petersburg) Soviet, the People's Commissariat of the RSFSR, and others. Gosizdat was the first large-scale, state-controlled publisher formed with the purpose of joining the nation's printing and publishing entities under a single institution. While it existed somewhat independent of the government, by 1930 Gosizdat served as the base for the ...
Read More About This Publisher