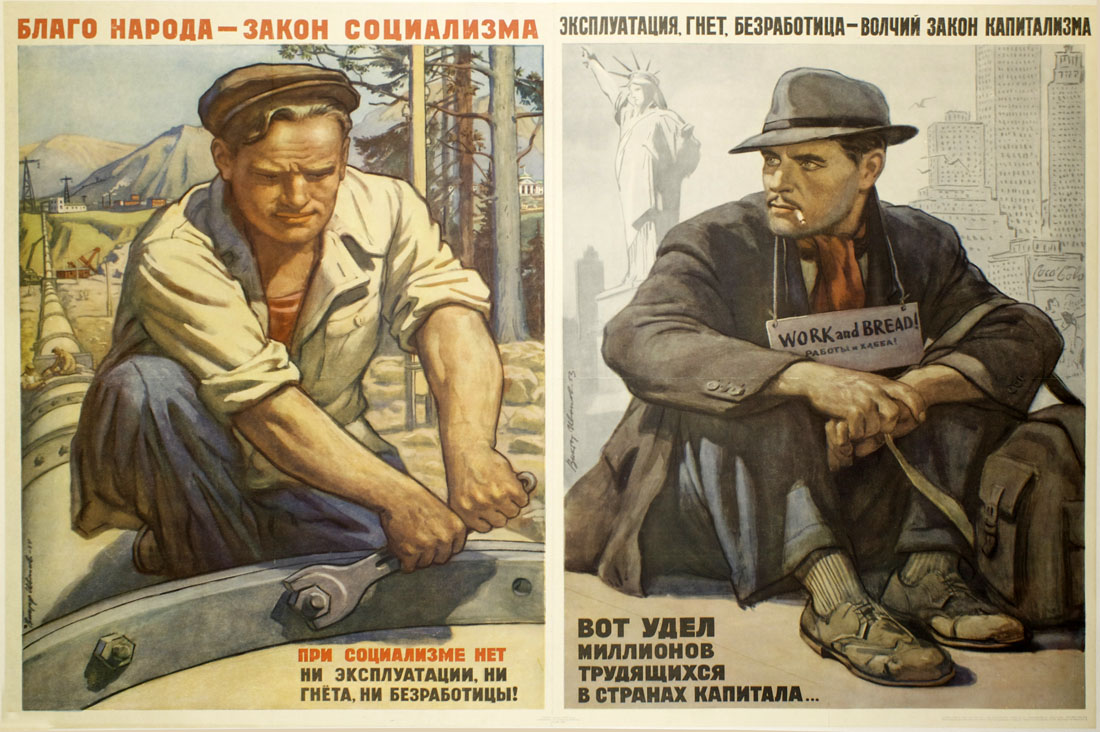 Artist: Ivanov, Viktor Semenovich — Иванов, Виктор Семёнович
Viktor Ivanov attended Moscow Secondary Professional Art School from 1926 to 1929. In 1928, he took classes at a studio of Dmitrii Kardovskii and, from 1929 to 1933, he continued his education at the Institute of Painting, Sculpture and Architecture affiliated with the Russian Academy of Arts in Leningrad. Viktor Ivanov began to work for the central publishing house Ogiz-Izogiz in 1931 where he achieved acclaim as a graphic designer with a concentration in poster development. Ivanov began to exhibit professionally in 1934.  He contributed to the TASS (Telegraph Agency of the Soviet Union) Studios between 1941 and 1943 and created approximately nineteen posters for that entity.
Read More...
Printer: Printer not indicated —
Publisher: IzoGiz (State Publishing House of Fine Art), Moscow — Изогиз (Государственное издательство изобразительного искусства), Москва
The history of IzoGiz begins with the formation of Ogiz, the Association of the State Book and Magazine Publishers. In 1930, the Sovnarkom of the Russian Socialist Federative Soviet Republic established Ogiz to centralize publishing under a monopoly in order to eliminate duplication of printed material, to streamline and control publishing production and its output, and to create a base for marketing books, training and technical manuals. In 1931, the Central Committee of the USSR ordered certain publications be separated from Ogiz. The separation principally affected technical manuals and propaganda material issued by the publisher. For example, posters, art magazines and artistic books were placed under Izogiz (Izobrazitel'noe iskusstvo), the fine arts section of Ogiz. In 1963, Izogiz was merged with the publishing house, "Soviet Artist" (Sovetskii khudozhnik).
Read More...