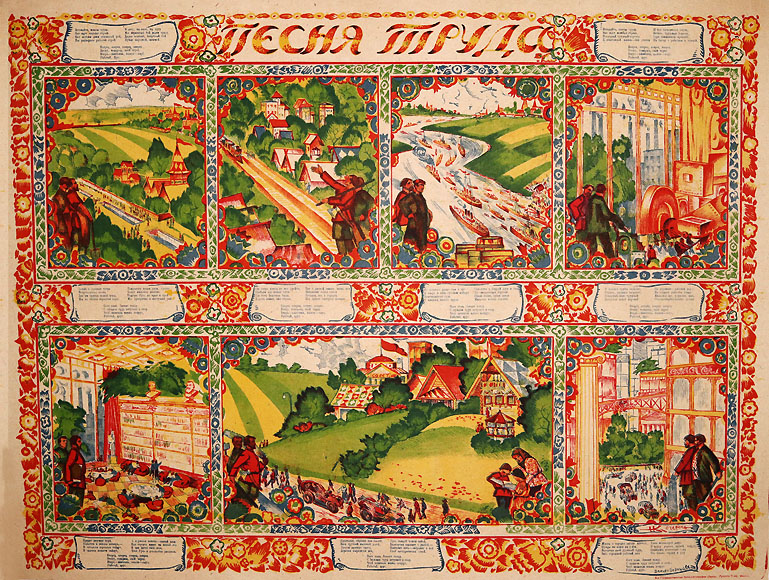 Artist: Kochergin, Nikolai Mikhailovich — Кочергин, Николай Михайлович
In the history of Soviet political posters, Nikolai Mikhailovich Kochergin is considered one of its pioneers. In 1918, Kochergin graduated from the Stroganov Central Industrial Art College where he later ventured into the professional world of graphic design. During the Russian Civil War, he supervised a poster publishing house and workshop in Kharkov, Ukraine. He was also one of the primary organizers of the Baku, Azerbaijan ROSTA (Russian Telegraph Agency) artist group that circulated posters throughout ...
Read More...
Printer: 5th State Typolithography Workshop, Moscow (formerly Russian Partnership) — 5-я государственный типо-литография, (бывш. Русское товарищество)
Before nationalization, the 5th State Typolithography Workshop in Moscow was Russian Partnership Printing House on Krivoarbatskii (curved) lane. The 5th Lithography was placed under the Mosoblpoligraf printing trust. It is not to be confused with the 5th Typography Workshop that was also in Moscow during the same period. Krivoarbatskii Lane became Melnikov Lane (for architect Konstantin Melnikov who lived at number 10) and in 1936, it became Zhukov Street in honor of engineer Nikolai Zhkovskii who lived ...
Read More...
Publisher: Publisher not indicated —