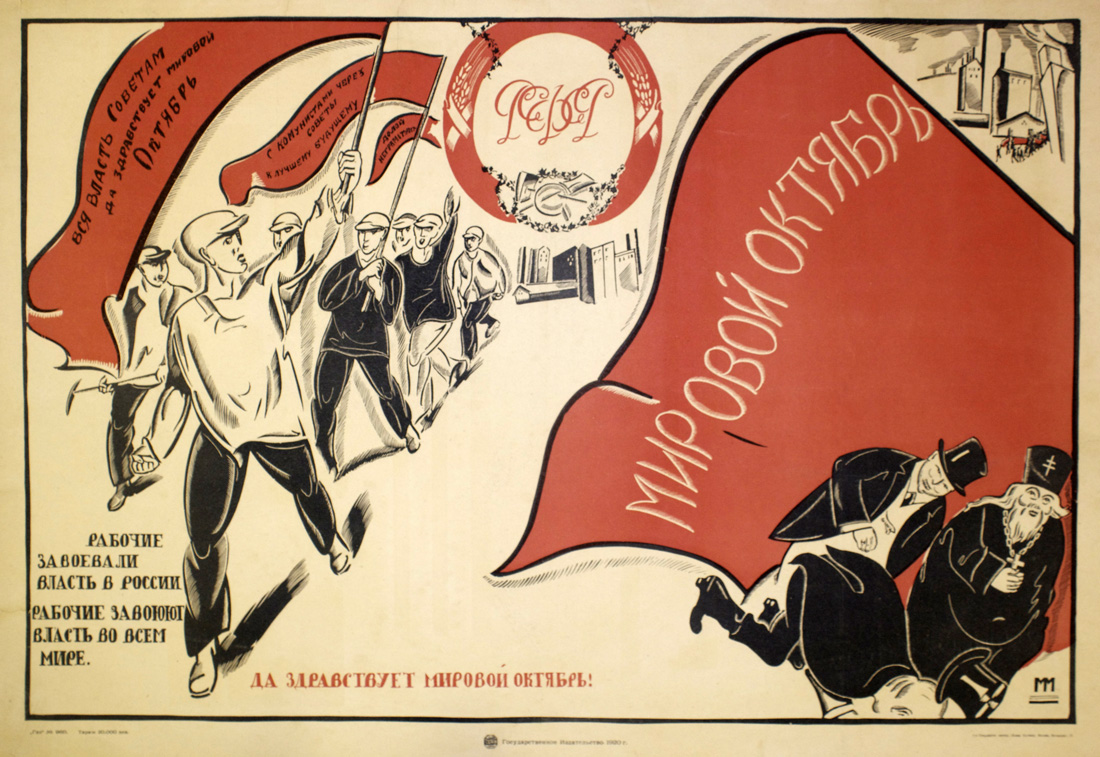 Artist: Matorin, Mikhail Vladimirovich — Маторин, Михаил Владимирович
Printer: 1st State Typo-lithography Workshop, Moscow (formerly Sytin) — 1-я Государственная типо-литография, Москва (до Сытина)
The 1st State Typo-lithography Workshop began as the Sharapov-Sytin Partnership in the era before the Russian Revolution. Ivan Dmitrievich Sytin (1851-1934) was the son of a peasant from the Kostroma region northeast of Moscow. In the 1860s, Sytin worked in Moscow as an apprentice and then as the manager for a printing shop owned by Peter Nikolaevich Sharapov. In 1879, Sytin opened his own printing shop in Moscow using a single press. By the start of the 20th century his shop (at Valovaia and Piatnitskaia streets) became the largest private printing company in tsarist Russia.
Read More...
Publisher: State Publishing House — Государственный издательство
The State Publishing House had its origins in Imperial Russia as the Royal Print Yard in St. Petersburg. The Soviets nationalized the print yard in 1917 and requisitioned its presses. From requisitioning emerged the Publishing House of the Petrograd Soviet that was formed in the winter of 1917 by the Literary and Publishing Department of People's Commissariat for Education. As the Red Army controlled more provinces and cities in former Imperial Russia, the State Publishing House developed additional offices outside St. Petersburg. For example in May 1919, the All-Russian Central Executive Committee created the State Publishing House of the RSFSR (Russian Soviet Federative Socialist Republic) in Moscow. Publishing offices were later created elsewhere around Soviet Russia as well as in the outlying republics. In 1919, the State Publishing House changed its name to Petrogosizdat, and in 1924, it was named Lengosizdat (A.K.A. Lengiz) when St. Petersburg changed to Leningrad in honor of Vladimir Lenin.
Read More...