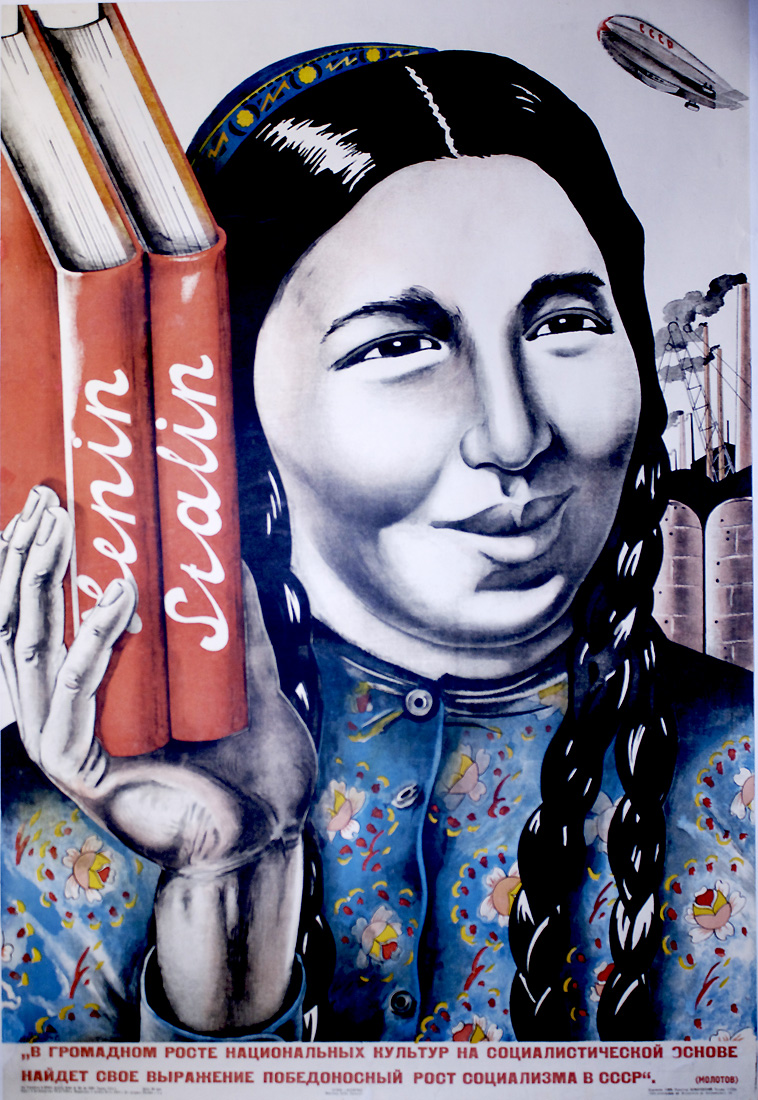 Artist: Glik, M. — Глик, М.
Printer: Typolithography Workshop named for V.V. Vorovskii, Moscow — Типо-литография им. Воровского, Москва
The Typolithography Workshop named for V.V. Vorovskii was named in honor of Vatslav Vatslavovich Vorovskii (1871-1923) who was the head of Gosizdat (State Publishing House) from 1919 until 1921. After leaving Gosizdat, Vorovskii served as a diplomat for the Soviet Union. In 1923, he was assassinated in Lausanne, Switzerland. The printer was located in Moscow at 18 Dzerzhinskii Street, a thoroughfare that now has the name Bolshaia Lubianka.
Read More...
Publisher: Ogiz-IzoGiz, Moscow-Leningrad — Огиз-Изогиз, Москва-Ленинград
Ogiz was the Association of the State Book and Magazine Publishers. Its main offices were located in Moscow and in Leningrad. The Sovnarkom of the Russian Socialist Federative Soviet Republic established Ogiz in 1930 to centralize publishing activities under a state monopoly in order to eliminate duplication of printed material, streamline and control publishing production and output, and to create a base for marketing books, training and technical manuals. In 1931, the Central Committee of the USSR ordered certain publications be separated from Ogiz. This principally affected technical manuals and propaganda material issued by the publisher. For example, posters, art magazines and artistic books were placed under Izogiz (Izobrazitel'noe iskusstvo), the fine arts section of Ogiz. In 1949, Ogiz was reorganized and merged into Glavpoligrafizdat, the Main Administration for Matters of the Polygraphic Industry, Publishing and Book Selling. In 1953, Glavpoligrafizdat was reorganized and renamed, Glavizdat. Thereafter, the publishing, printing and bookselling monopoly in the USSR was separated into three distinct divisions. In 1963, Izogiz was merged with the publishing house, "Soviet Artist" (Sovetskii khudozhnik).
Read More...