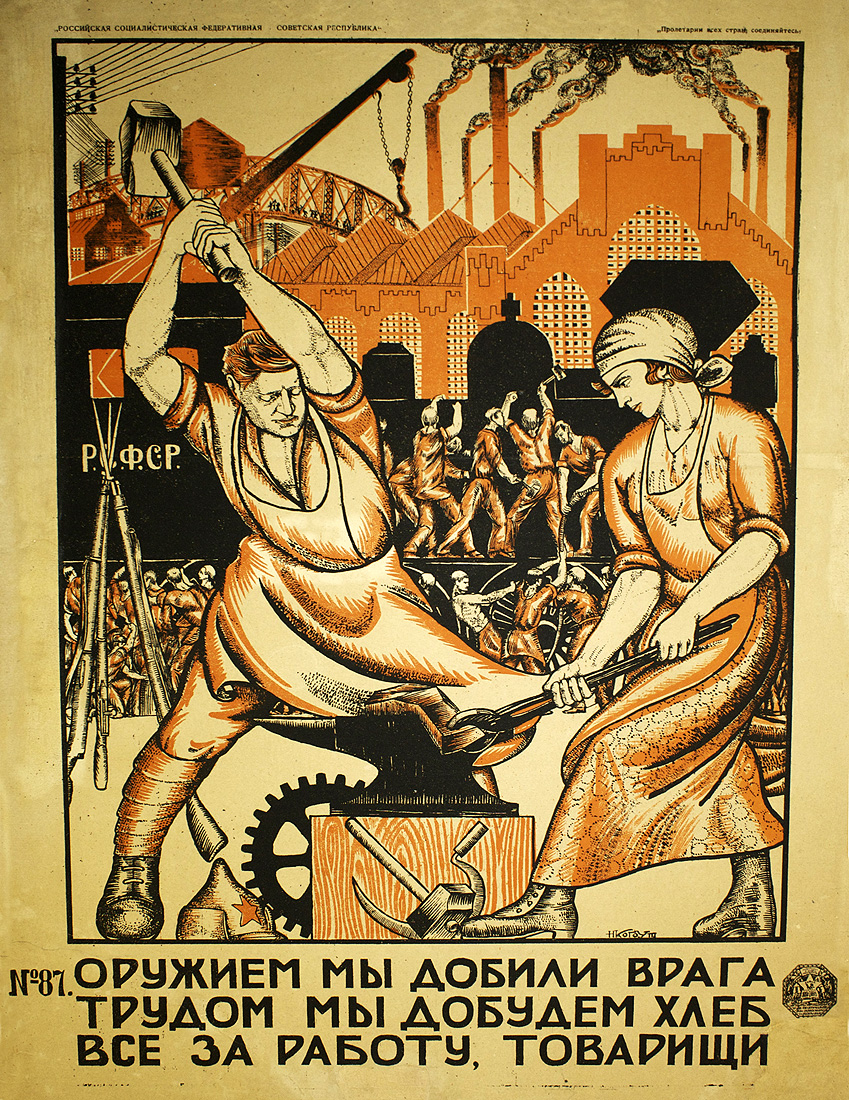 Artist: Kogout, Nikolai Nikolaevich — Когоут, Николай Николаевич
Nikolai Nikolaevich Kogout was one of the preeminent artists of the poster genre during Russia's early revolutionary period. In 1913, Kogout graduated from the Stroganov Central School of Industrial Art in Moscow and subsequently attended VKhUTEMAS [Higher Art and Technical Studios]. He contributed works to the seventh exhibition of the art group L'Araignée and exhibited at Galerie Devambe in Paris in 1925. During the Russian Civil War, Kogout designed posters from 1918 to 1920 in the Revvoensovet-- the propaganda department of the Red Army. He also created illustrations for the journals Bezbozhnik u stanka and Daesh'.
Read More...
Printer: Printer not indicated —
Publisher: Litizdat (Literary and Publishing Department of the Political Directorate of the Revolutionary Military Council of the Republic) — Литиздат
Litizdat (Literaturno-izdatel'skii otdel politicheskogo upravleniia RVSR) was established in June 1919 by order of the Department of the Political Directorate (PUR) of the Revolutionary Military Council of the Republic (RVSR). A formal decree approved its existence in October that year. Due to the hierarchy of Litizdat's formation, its title is often abbreviated as Litizdat PUR RVSR on publications it issued. As the main publishing arm for the Red Army and the Red Navy, Litizdat distributed a total of 7.5 million posters and postcards between 1919 and 1922. After the Russian Civil War, Litizdat PUR was dissolved and its functions were divided into a succession of state publishing entities. In 1921, the key functions of Litizdat were assigned to the Department of Military Literature (Litrevsor) and by 1924, Litrevsor gave-way to the State Military Publishing House (Gosudarstvennoe voennoe izdatel'stvo), Voenizdat-Voengiz.
Read More...