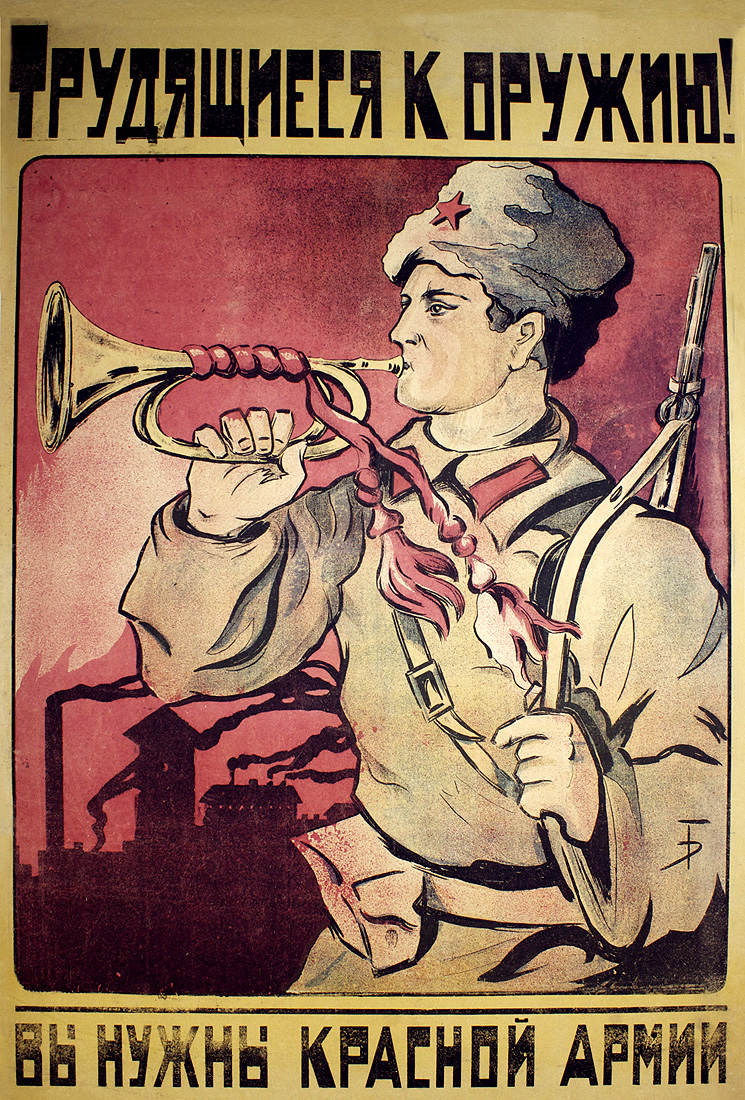 Artist: Boichuk, Timofei L'vovich — Бойчук, Тимофей Львович
Timofei Boichuk was a member of ARMU (Association of Revolutionary Art of Ukraine). He produced figurative portraits and genre painting primarily in tempera. His most noted works are, Torgovtsi semechakmi [Sellers of Sunflower Seeds], Gruppovoi portret [Group Portrait] and, Molochnitsa [Milkmaid]. All three paintings are held in the collection of the Ukrainian Museum of Fine Arts in Kiev. In 1919, during the Russian Civil War, Boichuk assisted in the design of murals for the Red Army ...
Read More About This Artist
Printer: Narkomvoen (People's Commissariat for Military Affairs), Ukraine — Наркомвоена, Украины
The People's Commissariat for Military Affairs (Narkomvoen) was formed in late 1917 in the RSFSR (Russian Socialist Federative Soviet Republic). Its immediate tasks after formation were dealing with the mass demobilization of Imperial Army troops and the creation of the Red Army and Red Navy. Due to its far-reaching command over the Soviet Military, Narkomvoen utilized its own printing presses to disseminate literature and propaganda central to its mission. Narkomvoen, Ukraine was a branch that operated ...
Read More About This Printer
Publisher: Narkomvoen (People's Commissariat for Military Affairs) — Наркомвоен
When the Bolsheviks took control of the government in 1917 they formed a Committee for Military Affairs to establish their military organization. Soon after, a formal reorganization of the nation's armed forces coincided with the dismantling of the War Ministry that had been part of the Russian Provisional Government prior to Bolshevik control. Staff loyal to the Imperial Russian and White Russian commands was "purged" and in their place, military "specialists" were ...
Read More About This Publisher