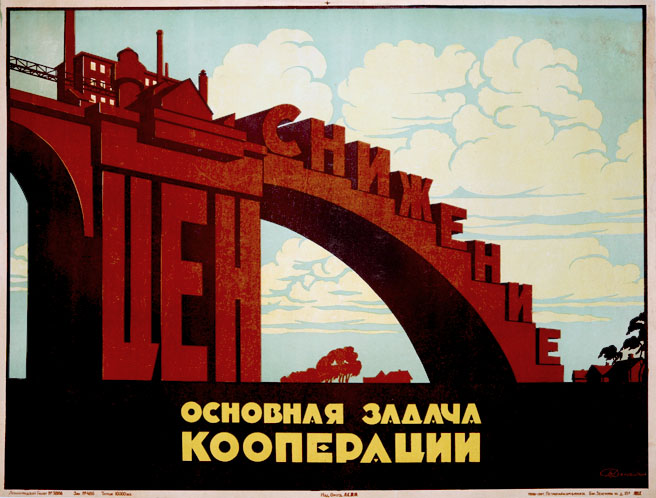 Artist: Danchich, Boris Viktorovich — Данчич, Борис Викторович
As a student in 1917, Boris Danchich studied at PAKh (St. Petersburg Academy of Arts) and in the 1920s, he graduated from VHUTEIN (Leningrad Higher Art and Technical Institute). As a student, Danchich gained a formidable base in architecture and town planning and he later became Chief Architect of the Leningrad section of the State Design Institute, Grostroiproekt. While Danchich is not known for his work as a graphic designer, he nonetheless created a limited number ...
Read More About This Artist
Printer: Petroraikombinat Typolithography Workshop, Leningrad — Типолитография Петрорайкомбината, Ленинград
The Typolithography of Petroraikombinat was located at 18 Bol'shaia Zelenina Street in Leningrad (St. Petersburg). According to published Russian sources, the printer went through several ownership changes prior to the Russian Revolution. One of the last private owners of the printing house was Aleksei Vladimirovich Ianov (1863-?), a former Lieutenant Colonel in the Imperial Navy who was the head of the printing house of the Naval Ministry. By the mid-1920s, the printer was placed un...
Read More About This Printer
Publisher: Leningrad Union of Consumer Societies — Ленинградский союз потребительских обществ
The Leningrad Union of Consumer Societies (Leningradskii Soiuz Potrebitel'nykh Obshchestv), abbreviated LSPO, was formed in 1924 out of a reorganization of the Petrograd Unified Consumer Society (PEPo). The LSPO was later named the Leningrad Consumer Cooperatives.
Read More About This Publisher