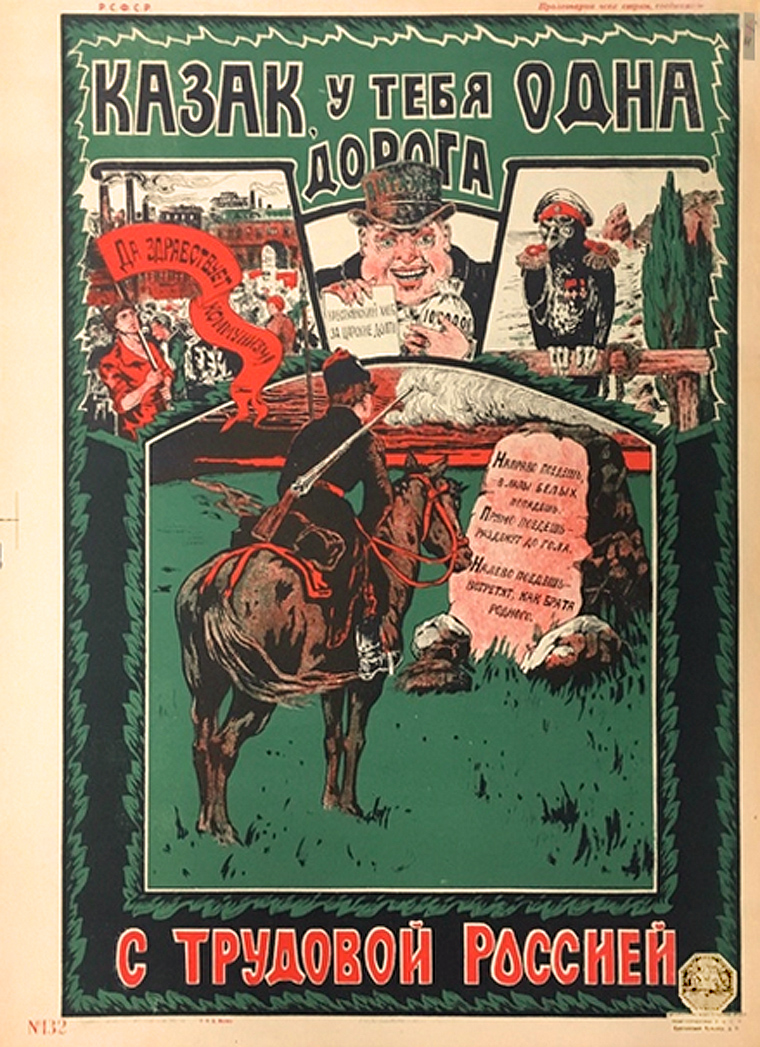 Artist: Moor (Orlov), Dmitrii Stakhievich — Моор (Орлов), Дмитрий Стахиевич
Dmitrii Stakhievich Moor (birth surname Orlov) was born into the family of a mining engineer and did not receive formal artistic education. After moving to Moscow in 1898, and between 1902 and 1906, he actively participated in the city's revolutionary movement, specifically taking part in the failed 1905 Revolution. While working at the Anatolii Mamontov printing shop, he submitted his drawings to periodicals. In 1908, he began to publish his cartoons in satirical journals, namely in Budil'nik [Alarm Clock]. While designing for Budil'nik, he adopted the pseudonym Moor deriving this name of the protagonist in Friedrich Schiller's play The Robbers (1781). During the early 1900s, Moor's characteristic graphic style emerged. It was defined by a preference for black and white ink drawing, often punctuated with color accents. In 1910, Moor attended the studio of Petr Ivanovich Kelin, a Russian visual artist, but he never finished his studies. After the October Revolution of 1917, Moor worked as a graphic designer for such satirical magazines as Bezbozhnik u stanka [Atheist at the Workbench] (1923-1928), Krokodil [Crocodile] (from 1922), and at Daesh' [Give] while creating caricatures for the leading Soviet newspaper Pravda. In 1918, he designed decorations for Moscow's Red Square May Day festivities. Between 1919 and 1920, he produced posters for the Revvoensovet [Revolutionary Military Council]. Moor was famous for his revolutionary posters. His stark-looking poster Pomogi! [Help!] (1920) became a canonical image representing the plight of the starving Russian population during the Russian Civil War. From 1922 to 1930, Moor taught at VKhUTEMAS [Higher Art and Technical Studios] and from 1930 to 1932, he taught at the Moscow Polygraphic Institute. He joined the artistic association October in 1928, staying its member until the group disbanded in 1932. That year, he was awarded the title of Honored Worker of Arts of the Russian Soviet Federated Socialist Republic. From 1932 to 1941, Moor worked at Izogiz State Publishing House. During World War II, he was evacuated to Samarkand, Uzbekistan where he continued to produce posters, drawings, and illustrations for the war effort.
Read More...
Publisher: Litizdat (Literary and Publishing Department of the Political Directorate of the Revolutionary Military Council of the Republic) — Литиздат
Litizdat (Literaturno-izdatel'skii otdel politicheskogo upravleniia RVSR) was established in June 1919 by order of the Department of the Political Directorate (PUR) of the Revolutionary Military Council of the Republic (RVSR). A formal decree approved its existence in October that year. Due to the hierarchy of Litizdat's formation, its title is often abbreviated as Litizdat PUR RVSR on publications it issued. As the main publishing arm for the Red Army and the Red Navy, Litizdat distributed a total of 7.5 million posters and postcards between 1919 and 1922. After the Russian Civil War, Litizdat PUR was dissolved and its functions were divided into a succession of state publishing entities. In 1921, the key functions of Litizdat were assigned to the Department of Military Literature (Litrevsor) and by 1924, Litrevsor gave-way to the State Military Publishing House (Gosudarstvennoe voennoe izdatel'stvo), Voenizdat-Voengiz.
Read More...