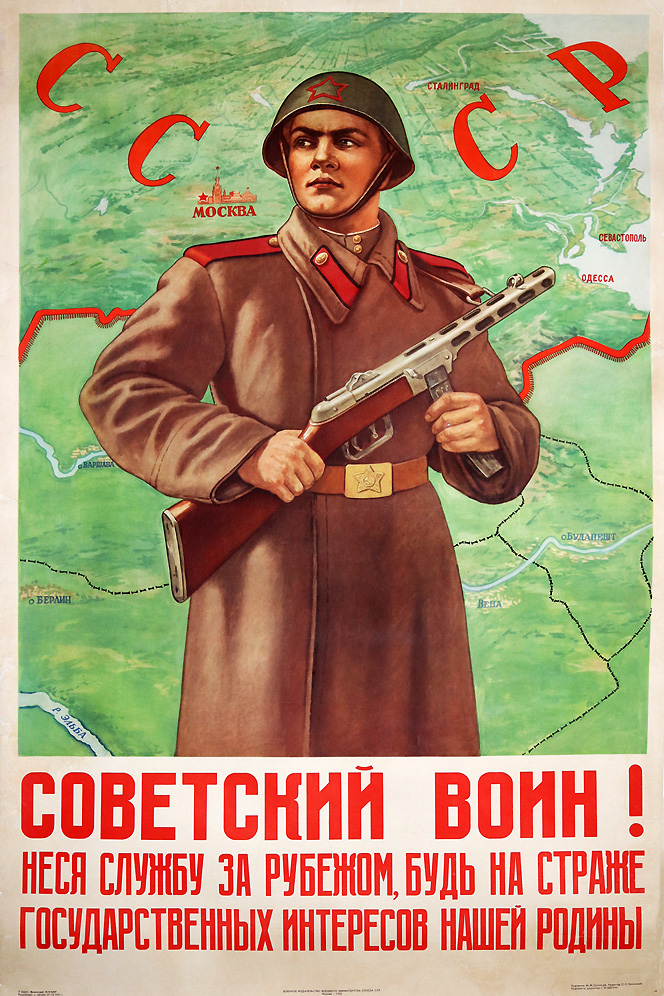 Artist: Solov'ev, Mikhail Mikailovich — Соловьёв, Михаил Михайлович
Mikhail Mikailovich Solov'ev was born in Moscow. In 1930 he graduated from the advanced courses of the A.Kh.R.R. (Association of Artists of Revolutionary Russia). While he began his professional career as a painter, from 1944 on, he exclusively designed posters. He was made a member of the Union of Soviet Artists in 1933. During the 1930s, Solov'ev worked together on posters and dioramas with the graphic designer Pavel Sokolov-Skalia. During the mid-1930s, Solov'ev was ...
Read More About This Artist
Printer: Printer not indicated —
Publisher: Voenizdat (Military Publishers) — Воениздат
Voenizdat (Military Publishers) was the Military Publishing House of the Ministry of Defense of the USSR (voennoe izdatelstvo). Established in Moscow in 1919; Voenizdat published literature for the defense industry such as technical manuals and dictionaries. It also published posters, pamphlets and fiction and non-fiction literature frequently containing military themes. Voenizdat's predecessor was Litizdat, the publishing arm of the Revolutionary Military Soviet.
Read More About This Publisher