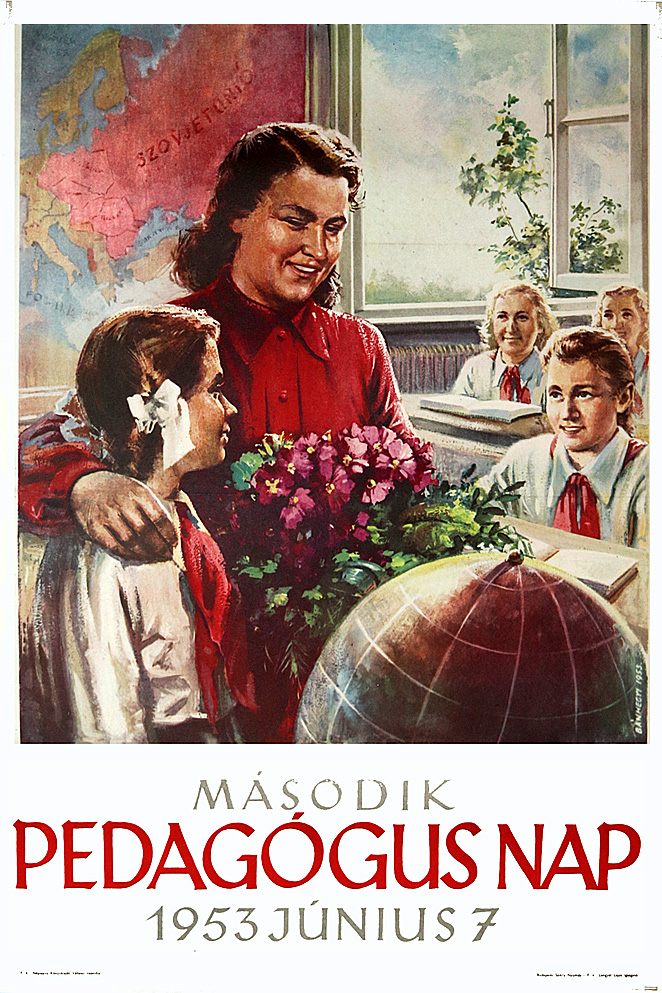 Artist: Banhegyi, Tibor (Bánhegyi, Tibor) — Банхеди, Тибор
Tibor Bánhegyi was a Hungarian poster artist who began his career in the 1940s. Bánhegyi studied at the University of Applied Arts between 1945 and 1947 and his first professional designs were exhibited in 1948 at an art exhibition held in the Nemzeti Szalon (National Salon) in Budapest. Bánhegyi was commissioned by the Hungarian Workers' Party as well as by the Hungarian People's Army to create propaganda posters. His early works (from 1949 to 1955) are largely bas...
Read More About This Artist
Printer: Szikra (Spark) Press and Publishing House, Budapest —
Szikra (Spark) Press and Publishing was located at 10 Honvéd Street in Budapest, Hungary. It served as the main literature and propaganda communicator for the Hungarian Communist Party. Formed in 1944, Szikra's infrastructure was developed via the nationalization of the Pallas and Stádium printers in the town of Szeged. When the publisher moved its headquarters to Budapest, it occupied the former Catholic Publishing Company offices. During Szikra's early years of development, Hungarian publisher Imre C...
Read More About This Printer
Publisher: Népszava (People's Voice) Publishing — Издательство Народное слово
Népszava (People's Voice) was a newspaper published in Hungary. Its origins date to 1877 when it was formed as a center-left periodical catering to social democrats. When a coalition government came to power in Hungary in 1945, the press was reorganized. While government controls were initiated over the press; Népszava was granted authority to continue its operations. In 1948, another press reorganization led to Népszava becoming an organ for the trade unions. In 1972, the paper...
Read More About This Publisher