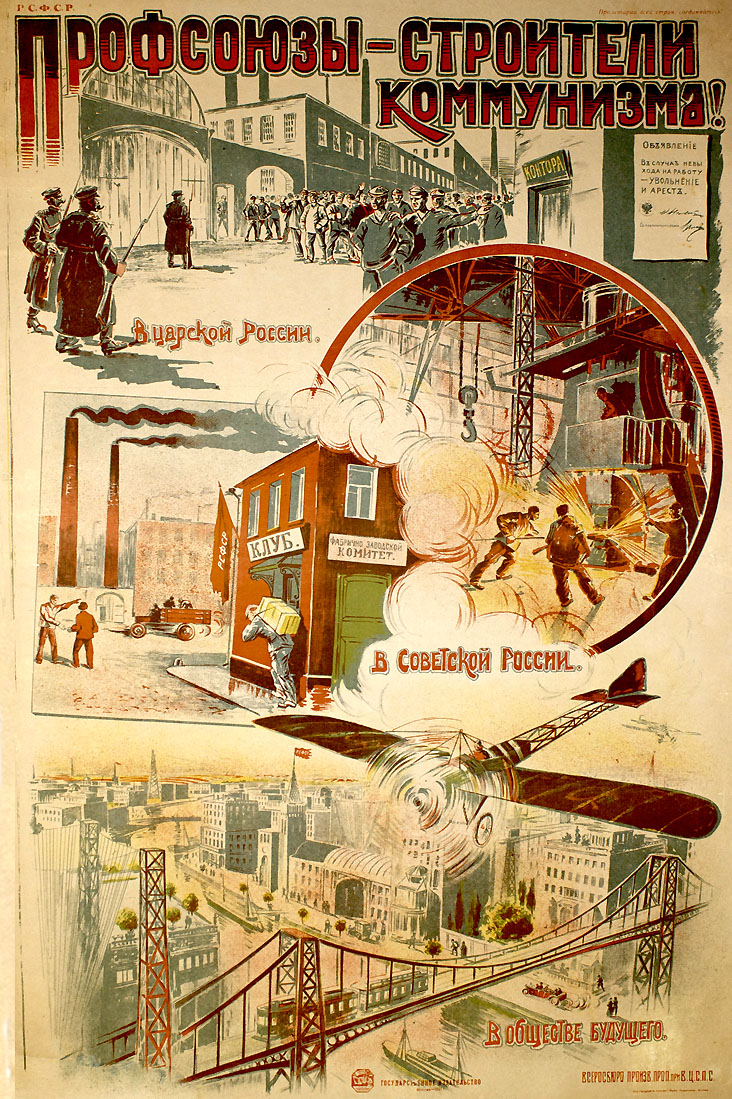 Artist: Illegible Name — Неразборчивое Имя
Printer: 20th State Typolithography Workshop, Moscow —
Russian entrepreneur Ivan Kushnerev founded the Ivan Kushnerev & Company Printing Shop in 1869 in Moscow. When Kushnerev died in 1896 his printing company was one of the largest in Imperial Russia. The Kushnerev shop was nationalized by the Soviets in 1919. By 1921, it was re-named the 20th State Typolithography Workshop and then, it became the 3rd Krasnii Proletarii Book Printing Plant around the time that its location (on Pimenovskaia Street) was re-named Krasnoproletarskaia (Red Proletarian) Street.
Read More About This Printer
Publisher: All-Russian Bureau of Industrial Propaganda — Всероссийского бюро производственной пропаганды
The All-Russian Bureau of Industrial Propaganda was formed in 1920 to advance all aspects of labor considered important by Soviet authorities. The entity was formed by the All-Russian Central Council of Professional Unions (V.Ts.S.P.S.). They not only studied labor but offered solutions for, "immediate introduction of the most efficient methods into the industries". Duties of the All-Russian Bureau of Industrial Propaganda were borne by the Central Institute of Labor.
Read More About This Publisher