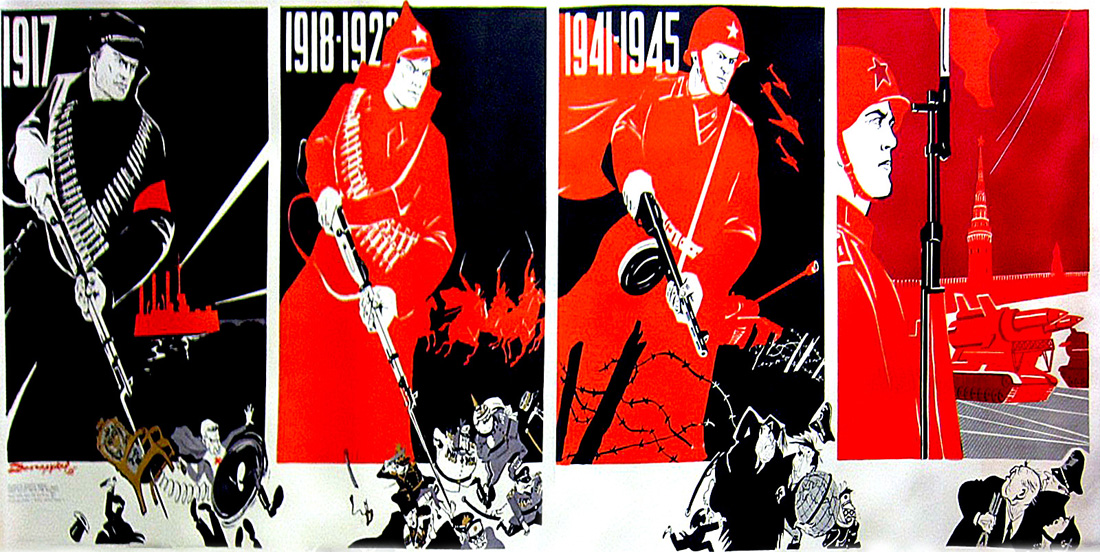 Artist: Dolgorukov, Nikolai Andreevich — Долгоруков, Николай Андреевич
In 1928, Nikolai Andreevich Dolgorukov moved from his native Ekaterinburg to Moscow to attend VKhUTEIN (Higher State Artistic and Technical Institute). After that organization dissolved in 1930, Dolgorukov continued his studies at the Moscow Polygraphic Institute under the tutelage of artists Lev Bruni and Dimitri Moor. Dolgorukov's training was in illustrated political satire as well as in poster design, and each area became the main focus of his long career. After graduation, he collaborated with fellow poster ...
Read More About This Artist
Printer: Kalinin City Poligrafkombinat — Полиграфкомбинат, Калинин
The Kalinin Poligrafkombinat (printing plant) was located at 5 Lenin Avenue (formerly Voroshilov Street) in the city of Kalinin (Tver) northwest of Moscow. Throughout its existence, the printer was allocated different names depending on the various state-owned trusts that handled its operations. For example, in the mid-1950s to early 1960s, the plant was a contract printer for Sovnarkhoz RSFSR (Regional Council of National Economy of the Russian Socialist Federative Soviet Republic). Sovnarkhoz was an economic ...
Read More About This Printer
Publisher: Sovietskii Khudozhnik (Soviet Artist), Moscow — Советский художник, Москва
Sovietskii Khudozhnik (Soviet Artist) was a publishing house that chiefly served the Artists' Union of the USSR. The publishing house was founded in Moscow in 1946 and it turned out illustrated monographs on contemporary artists and collections. It also published art reproductions, postcards and art books, art catalogs, brochures and posters. During a reorganization of the publishing sector in the USSR in 1964, Soviet Artist merged with Izogiz, the fine arts section of Ogiz (Association of the St...
Read More About This Publisher