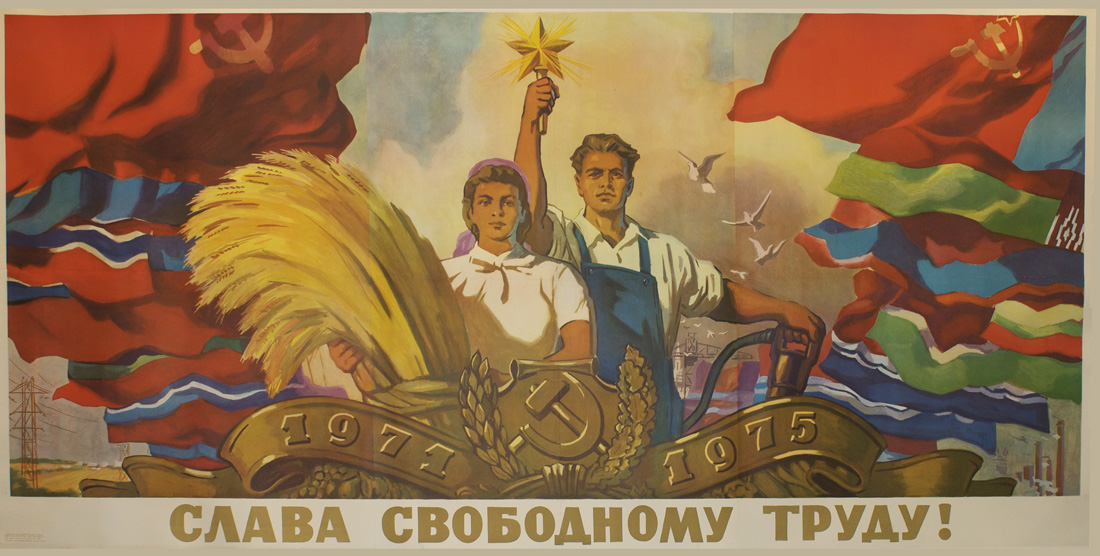 Artist: Kokorekin, Aleksei Alekseevich — Кокорекин, Алексей Алексеевич
Aleksei Alekseevich Kokorekin was born in a part of Russian Empire that was on the border of the Ottoman Empire. He began is studies in the cites of Krasnodar and Poltava. In 1918, Kokorekin attended the Krasnodar School of Painting and Sculpture where he graduated in 1927. From 1927 to 1929, Kokorekin attended the Kuban' Art and Pedagogical School in Krasnodar. While living in Krasnodar, he worked both as a poster designer and a decorator for the town theater. ...
Read More About This Artist
Printer: Kalinin City Poligrafkombinat — Полиграфкомбинат, Калинин
The Kalinin Poligrafkombinat (printing plant) was located at 5 Lenin Avenue (formerly Voroshilov Street) in the city of Kalinin (Tver) northwest of Moscow. Throughout its existence, the printer was allocated different names depending on the various state-owned trusts that handled its operations. For example, in the mid-1950s to early 1960s, the plant was a contract printer for Sovnarkhoz RSFSR (Regional Council of National Economy of the Russian Socialist Federative Soviet Republic). Sovnarkhoz was an economic ...
Read More About This Printer
Publisher: Izobrazitel'noe Iskusstvo (Fine Art Publishers) — Изобразительное Искусство
Founded in 1963, Izobrazitel'noe Iskusstvo (Fine Art Publishers), was dedicated to producing monographs, books, textbooks and study guides on the visual arts. It also published postcards and posters. Prior to the publisher's organization, Izogiz (State Publishing House of Fine Art) produced the lion's share of fine arts material for publication in the USSR and abroad.
Read More About This Publisher