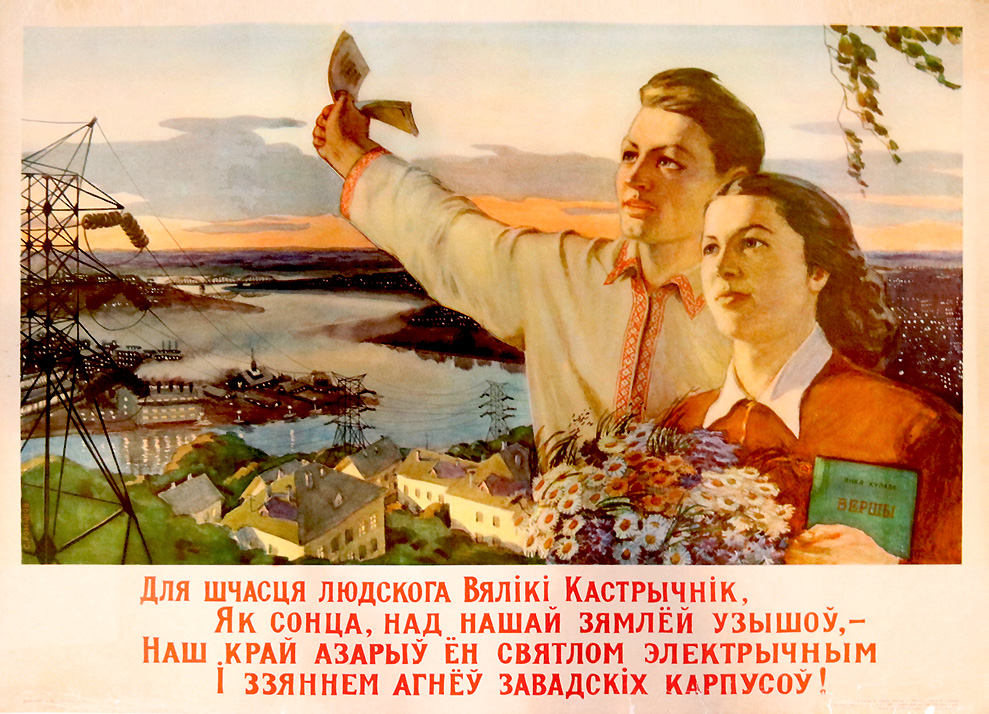 Artist: Romanov, Sergei (Ramanaw, S.R.) — Романы, С. Р. (Раманаў, С. Р.)
Printer: Minsk Lithographic Poligrafkombinat named for Iakub Kolas — Минский литографический полиграфкомбинат имени Якуба Коласа
Iakub Kolas (1882-1958) was born Kanstantsin Mitskievich. He is considered a founder of modern Belorussian literature. A child of peasants, he grew-up in a small village near Minsk and from his humble origins went on to become the People's Poet of the Belorussian SSR and a member and vice-president of the Belorussian Academy of Sciences.
Read More About This Printer
Publisher: State Publishing House, Belorussian SSR — Государственное издательство, Белорусской ССР
The State Publishing House had its origins in Imperial Russia as the Royal Print Yard in St. Petersburg. As the Red Army increased its control over the provinces and cities in former Imperial Russia, the State Publishing House developed offices outside St. Petersburg. The Belorussian SSR bordered Poland to the west, the Russian Soviet Federative Socialist Republic (RSFSR) to the east, the Lithuanian SSR and Latvian SSR to the north, and the Ukrainian SSR to ...
Read More About This Publisher