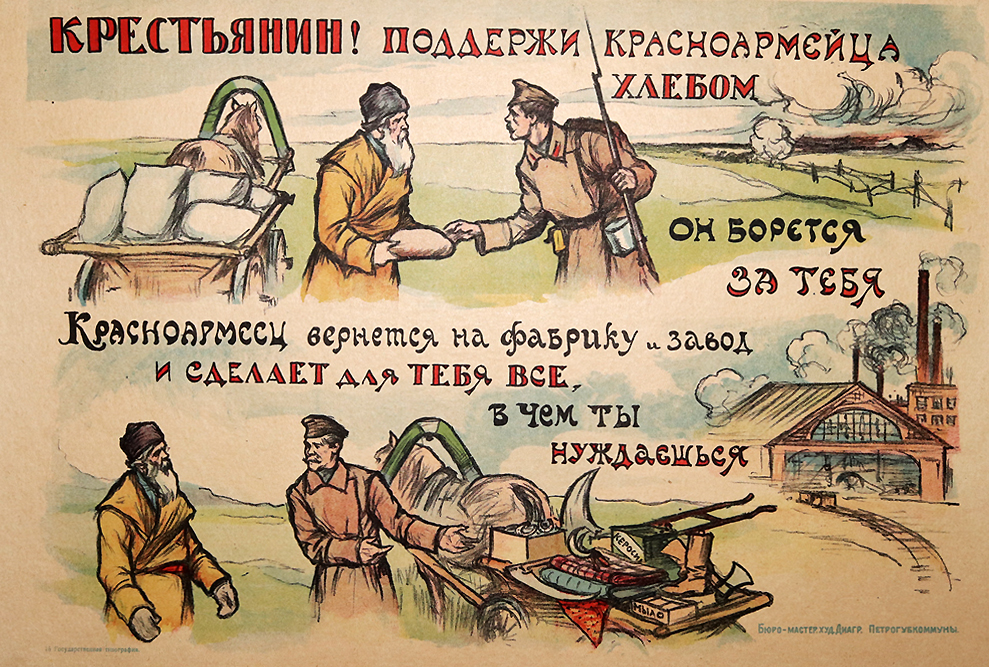 Artist: Artist Unknown — неизвестный художник
The artist's name on the poster is not indicated. By assigning Artist Unknown to a poster it also could mean the artist used a chop mark whereby no signature is seen thus rendering the artist's identity anonymous.
Read More About This Artist
Printer: 15th State Typography Workshop, Petrograd [St. Petersburg] — 15-я Государственная типографская, Петроград
The 15th State Typography Workshop began its history as the lithographic partnership of Roman Golike and Artur Vil'borg from 1902 to 1918. It was located at 11 Zvenigorodskaia Street in Petrograd (St. Petersburg). After being nationalized shortly after the October Revolution, it became the 15th State Typogaphy. In 1922, the printer was placed in the State-controlled printing trust of Petropechat' and it was renamed in honor of Ivan Fedorov (c.1525-1583) who is often referred to as the fi...
Read More About This Printer
Publisher: Petrogubkomuny (Petrograd Provincial Consumer Commune) — Петрогубкомуны (Петроградская губернская коммуна)
The Petrograd Provincial Consumer Commune (abbreviated Petrogubkommuna as well as Petrokommuna) was founded in March 1919 by the Council of People's Commissars during the Russian Civil War. The creation of Petrogubkommuna was fostered by the conditions of war communism and its adverse affect on accessibility of consumer goods. Its graphic arts section was under the aegis of the Bureau for Design and Production of Artistic Diagrams (BMKhD) organized with the support by the Russian art critic, ...
Read More About This Publisher