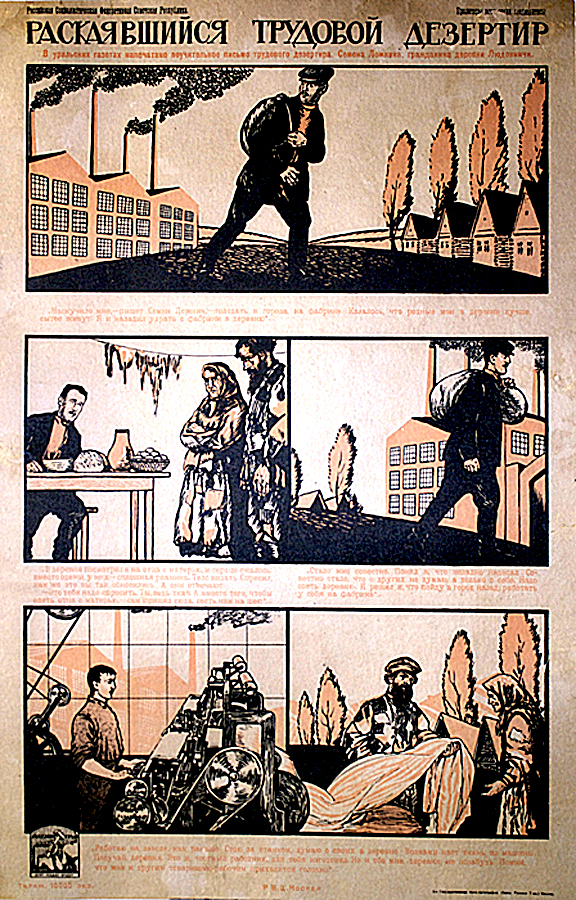 Artist: Artist Unknown — неизвестный художник
The artist's name on the poster is not indicated. By assigning Artist Unknown to a poster it also could mean the artist used a chop mark whereby no signature is seen thus rendering the artist's identity anonymous.
Read More About This Artist
Printer: 5th State Typolithography Workshop, Moscow (formerly Russian Partnership) — 5-я государственный типо-литография, (бывш. Русское товарищество)
Located in the Chistye Prudy neighborhood at 14 Myl'nikov Lane (a.k.a. Zhukovskii Street); the 5th State Typolithography Workshop was the Russian Partnership prior to its nationalization. Around 1922 the printer was placed under the Mospoligraf printing trust during a period of consolidation that occurred in the Moscow printing industry. With a staff of over two thousand, Mospoligraf oversaw a myriad of printers under local sections. Subsequently, Mospoligraf was the second-largest printing trust in Moscow outside ...
Read More About This Printer
Publisher: Glavkomtrud (Main Committee on Universal Compulsory Labor) Agitation and Publication — Главкомтруд (Главный комитет по проведению всеобщей трудовой повинности) Агитация и публикации
Glavkomtrud (Main Committee on Universal Compulsory Labor) was established in 1920 during the Russian Civil War to mobilize labor troops to help win the war for the Bolsheviks and rebuild damaged infrastructure. It was divided into provincial branches called Кomtruds (Labor Committees). Both Glavkomtrud and the komtruds were interdepartmental organizations devised for coordinating mandatory labor conscription. Additionally, Glavkomtrud reigned-in labor desertion at factories and trade unions.
Read More About This Publisher