Alferov, Iurii Vasilievich
Алферов Юрий Васильевич


Born (date and location unknown, presumably Russian Empire); died (date and location unknown)

There is little published information available on the artist Iurii Vasilievich Alferov. From the 1930s to the 1940s, he designed posters for the publishing houses Izogiz (Fine Arts Publishing) and Iskusstvo (Art). Some of the poster titles Alferov designed are: "All bees for red clover! Bees increase the yield of red clover seeds by 2 to 3 times" (1932); "Cultivated hayfields for socialist animal husbandry" (1935); "'Increase annual grain production in the near future to 7–8 billion poods'.-- I. Stalin" (1936); "Cattle breeders of state and goat farms, expand socialist competition in the name of the Third Stalinist Five-Year Plan!" (1939); "Collective farms, collective farmers and individual farms! Fulfill your obligations to supply meat and poultry!" (1940); "State loans to the USSR contribute to the further rise of socialist agriculture, further strengthening of technical equipment ..." (1941); "Let's sow our native fields gloriously!" (1946) and "Collective farmers will fulfill the plan for spring sowing!" (1947).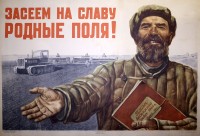 Sources & Citations
Morozov, A. (2008). Opredelitelʹ monogramm khudozhnikov-oformitelei proizvedenii pechati. Moskva: Kontakt-Kulʹtura. (p. 78, an artist named Iurii Vasil'evich Alferov is cited as being active during the Soviet era and signed his work with a chop mark)
tramvaiiskusstv.ru (bio)