Arzhenikov (Arzhennikov), Aleksei Nikolaevich
Аржеников (Арженников), Алексей Николаевич


Born August 15, 1891, Moscow, Russian Empire; died January 9, 1952, Moscow, USSR

Aleksei Nikolaevich Arzhenikov was a painter, graphic artist, and teacher in Imperial Russia and in the Soviet Union. In 1916, he graduated from MUZhVZ (Moscow School of Painting, Sculpture, and Architecture). The artist was a member of the Society of Moscow Artists (OMKh) from 1917-1925, and during that time he took part in a number of exhibitions with the group. Arzhenikov was primarily a portrait artist although he painted genre scenes such as his "Scene in a Tavern" (1916); "Wool-spinning factory. Unwinding Shop" (1929), and "Corner of the Park in Miskhor" (1935). Among his portraits are: "N. I. Shagaev"(1918), "Julian Marchlewski" (Polish Communist leader) and "Vladimir Lenin" (both 1933), "Sergei Kirov" (Leningrad Party Secretary) (1940), and "A. P. Buzinoi" (1946) who was an artist. From the 1910s to the early 1920s, Arzhenikov taught at the Tambov Real School (later, Tambov State Free Workshops), an institution for the training of technical specialists. In 1926, he joined A.Kh.R.R. (Association of Artists of Revolutionary Russia) and his work was exhibited with the association.

While the artist's graphic design portfolio is not as extensive as his work in other mediums, two 1930 poster titles by Arzhenikov are: "Organized collective labor in the fields is the best campaign for attracting individual farmers to the collective farms" and "Correct organization of labor will increase the crop harvest."

Aleksei Arzhenikov exhibited his work at the following venues: the 1st Exhibition of Paintings and Sketches by Artists of the Artistic Association (1912, St. Petersburg); the Exhibition of Students of MUZhVZ (on-going 1913 to 1917, Moscow); the Exhibition of Artists of the Moscow Salon (1917); the Sixth State Exhibition of [Print] Engravings (1918-1919, Moscow); the 1st Exhibition of Paintings by the Professional Union of Painters (1918, Moscow); Exhibition of Paintings by the Moscow Society of Artists (1924-'25); exhibition of the Academy of Arts of the USSR (1927 and 1929, Moscow), Artists of the Russian Soviet Federated Socialist Republic over 15 Years (1933, Leningrad); the Moscow Union of Artists (1938); and three exhibits in 1939 -- the Exhibition of Paintings, Watercolors and Graphics (Kislovodsk), the Exhibition of the Union of Moscow Artists, and the Exhibition of Paintings, Watercolors and Graphics by Moscow and Leningrad Artists (Bialystok). In 1943, the artist took part in one of the most important war-time art exhibitions in the USSR, "The Great Patriotic War" held at the State Tretyakov Gallery.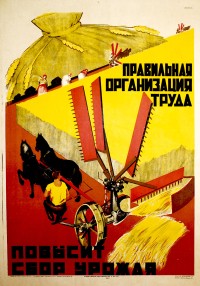 Sources & Citations
Vol'tsenburg, O.E., et al. (1970). Biobibligraphicheskii slovar' khudozhniki narodov SSSR (Vol. 2). Moscow: Iskusstvo. (p. 191, bio)
Milner, J. (1993). A dictionary of Russian and Soviet artists 1420-1970. Woodbridge: Antique Collectors' Club. (bio, p. 56)
tramvaiiskusstv.ru (bio)
painters.artunion.ru/2-01-1.htm (dates of birth and death)