Azhigirov, Alexander Prokofievich
Ажигиров, Александр Прокофьевич


Born October 14, 1909, Siberia, Russian Empire; died 1970 (location unknown) Moscow?, USSR

Alexander Prokofievich Azhigirov was born into an ethnic Tangut family in what is today the Republic of Buryatia in the Russian Far East. He attended the Moscow Institute of Art beginning in 1933 and graduated from there in 1939. At the close of the 1930s, Azhigirov worked in the Buryat-Mongolian ASSR (Autonomous Soviet Socialist Republic) as a graphic artist and a painter. His principal labor was in the propaganda arts designing posters. As a professional artist, he had participated in exhibitions since 1940.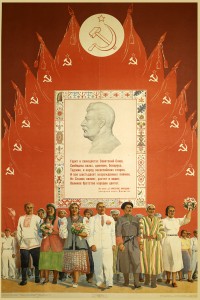 Sources & Citations
Vol'tsenburg, O.E., et al. (1970). Biobibligraphicheskii slovar' khudozhniki narodov SSSR (Vol. 1, P. 62). Moscow: Iskusstvo.
tramvaiiskusstv.ru (bio page)
painters.artunion.ru (birthdate of artist)