Babichenko, Dmitrii Naumovich
Бабиченко, Дмитрий Наумович


Born May 17, 1901, Zhytomyr, Russian Empire; died, July 30, 1991, USSR.

Dmitrii Naumovich Babichenko was a Soviet animator, film director, screenwriter and, a graphic artist. From 1920 to 1923, he studied at the Academy of Plastic Arts in Kiev. Professionally, Babichenko worked as a newspaper illustrator and a poster designer, however the majority of his career was dedicated to film animation. After completing his military service in the early 1930s, Dmitrii Babichenko served as a production designer from 1932 to 1933 in the animation department of Soiuzkino, the USSR's premier film studio. From 1933 to 1936, he worked in animation for Mezhrabpomfilm, a German-Soviet production company that produced the first sound film in the USSR. After 1936, Babichenko served as an animator at Soiuzmultfilm, an all-animation studio. At the aforementioned studios, he designed a multitude of film posters. From 1969 to '75, he worked as an animation director and an artist for the Central Television Network of the USSR. Babichenko was a Member of the Union of Artists of the USSR.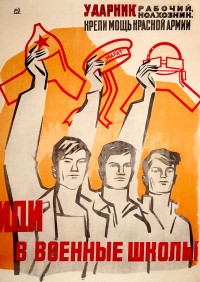 Sources & Citations
Kaplov, S. (2006). Entsiklopediia otechestvennoi mulʹtiplikatsii. Moskva: Algoritm. (P. 86, birth and death cited)
Koloskova, T. G., et al. (2001). Simboly epochi v sovetskom plakate. Moskva: Gosudarstvennyi istoriceskii muzei. (Babichenko personal data)
istoriya-kino.ru (Babichenko bio)
Kino- kino-teatr.ru (Babichenko bio)