Baliasnyi, Mikhail Matveevich
Балясный, Михаил Матвеевич


Born June 27, 1892, Kharkov, Russian Empire; died July 11, 1978, presumably Ukrainian SSR

Mikhail Matveevich Baliasnyi was an Imperial Russian and Soviet-era artist. He graduated in 1909 from Kharkov Art School and during the Soviet era he was principally engaged in the creation of agitprop (agitational) art. From the 1920s to the 1930s, Baliasnyi created art work that centered on the Russian Civil War and on national construction projects. From 1937 he lived and worked in Kiev. During World War II, Baliasnyi was evacuated to Siberia. He designed several patriotic posters during the war such as, "Death to the Fascist Warmongers" (with I. M. Kruzhkov) and "Molten steel down the throats of the fascists!" (both 1941). He also was the creator of landscape drawings such as, "Winter Landscape" (1951), "Morning in the Forest" (1953), "The Approach of Spring" (1954), "Over the Dnieper" (1957), and more. Baliasnyi began exhibiting work professionally in 1927 and took part in Ukrainian and All-Union exhibitions. He later participated in the First All-Union Poster in the Service of the Five-Year Plan (1932, Moscow). The artist is buried in Kiev.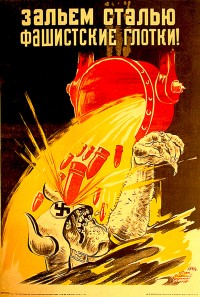 Sources & Citations
tramvaiiskusstv.ru (bio)
art-notalgie.com.ua (date of death and burial location)
artunion.ru (dates of birth and death)