Biriukov, Anatolii Petrovich
Бирюков, Анатолий Петрович


Born January 8, 1926, location unknown, USSR; died date and location unknown, presumably Russia

There is little published information available on Anatolii Petrovich Biriukov. He was a Moscow-based graphic designer and a participant in All-Union and Republican art exhibitions. During his career he designed posters for a number of publishing houses such as Selkhozizdat (Agricultural Publishing) and Plakat (Poster). Biriukov was chiefly known for designing occupational safety posters and for posters with agricultural themes. He designed the following titles: "We are not like herbs, our union is mighty. We bring people abundance -- the key" (1962); "Mechanic, be certain: they are preparing a winter harvest!" (1964); "Decisions of the XXIV Congress of the CPSU - to life! October 10 is the All-Union Day of Agricultural Workers" (1971); "Let's give the country more potatoes!" (1976), "The quality of the products of the fields is the guarantee of the farmer!" (1977); "Let's Become Masters of Fields and Farms!" (1979); "Surplus production of subsidiary farms - to the state!" (1982); "XXVII Congress of the CPSU - We are ready to accomplish feats of labor!" (1986), to name a few.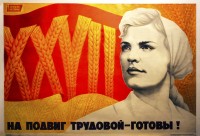 Sources & Citations
tramvaiiskusstv.ru (bio)