Blank, Boris Pinkhusovich
Бланк, Борис Пинхусович


Born 1897 Liepaja (Libava), Russian Empire; died 1957 Kharkov, Ukrainian SSR

Boris Blank was a graphic artist, illustrator and poster artist. He also was a founder of a graphics school in Kharkov, Ukrainian SSR. Born in the city of Libava (in today's Republic of Latvia), Blank studied at the Kharkov Art Institute from 1922 to 1929. He took-on a teaching position at the Art College in Kharkov (1930-1932) and was later an instructor at the Art Institute of Kharkov (1933-1934, 1947-1950). Blank participated in regional and All-Union exhibitions starting in the mid-1920s. In 1954, he took part in the Exhibition of Fine Arts of the Ukrainian SSR held at the State Tretiakov Gallery at Moscow . The exhibit was dedicated to the 300th anniversary of Russia and Ukraine unification. In addition to graphic design, Blank produced woodcut and linocut designs, easel graphics and book illustrations. He also had experience with printing and industrial graphics. Works of Boris Blank are housed in the Ukrainian art museums at Kharkov and Berdiansk as well as in the Kazakhstan art gallery and in a bevy of museums around the Russian Federation.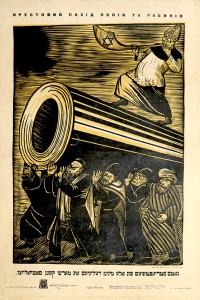 Sources & Citations
Veimarn, B. V. (1971). Istoriia iskussta narodov SSSR. Moskva: Izobrazit iskustvo. (entry on B. Blank)
Vrona, I. (1958). Ukraïns'ka radians'ka hrafika. Kiev: Derzh vyd'vo obrazotvorchoho mystetstva i muzychnoï lit'ry URSR. (entry on B. Blank)
tramvaiiskusstv.ru (entry on B. Blank)