de Ru, Huibert Bernardus Wilhelmus (Huib)
де Ру, Хюйб


Born February 1, 1902, Utrecht, Holland; died November 19, 1980, Haarlem, Holland

Huibert Bernardus Wilhelmus de Ru was foremost a painter and graphic artist but he also worked as a draftsman. He studied and worked with lithography, he created drawings and portraits, watercolor and oil paintings in addition to sandblasted, stained and glazed glass sculpture. As a professional artist, he used the name Huib de Ru when signing his work.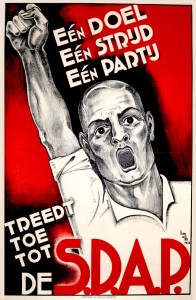 Sources & Citations
Hoogenraad, P. (2016). Zes eeuwen Hilversummers en hun kerken 1416-2016. Hilversum: Verloren. (mentions de Ru)
Eliëns, T. M., et al. (1997). Avant-garde design: Dutch decorative arts, 1880-1940. London: Philip Wilson Publishers Ltd. (mentions de Ru)
Jacobs, P. M. J. (1993). Beeldend Nederland: Biografisch handboek. Tilburg: Jacobs. (bio, de Ru)