Fridkin, Boris Markovich
Фридкин, Борис Маркович


Born 1901 (location unknown); died 1977, USSR

Boris Markovich Fridkin was a graphic artist, cartoonist, illustrator, book designer and poster artist. Fridkin is also noted for his work as an illustrator at the children's magazine "Funny Pictures". He also served as Artistic Editor of the magazines "Red Pepper" and "Crocodile". A designer of numerous posters throughout his career, Boris Fridkin was a participant in the First All-Union Exhibition of the Poster-- "A Poster in the Service of the Five-Year Plan"-- held in 1932 in Moscow at the State Tretiakov Gallery. Fridkin was also member of the Union of Artists of the USSR.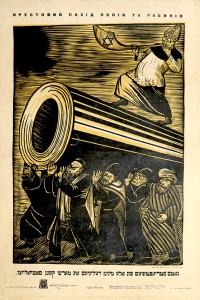 Sources & Citations
Veimarn, B. V., et al. (1965). Istoriia sovetskogo iskusstva: Zhivopisʹ, skulʹtura, grafika. (Vol. 2). Moskva: Iskusstvo.
bidspirit.com (birth and death dates)
tramvaiiskusstv.ru (Fridkin bio)