Gaal, Matias (Gaál, Mátyás)
Гаал, Матиас


Born December 8, 1909, Hajdúnánás, Austro Hungarian Empire; died April 16, 1999, Budapest, Hungary

Matyas Gaal was a poster designer and a graphic artist in Hungary. After completing his education, Gaal made his foray into the professional art world around 1940. One of his most noted achievements was a design he submitted to the Olympic poster competition of 1947. The design became an award-winning Hungarian poster for the London Olympics in 1948. Its illustration portrayed the bust of a Greek statue with a laurel wreath on its head whereby the leaves were substituted for flags from various competing nations. He also designed the key poster for the Budapest International Fair that was held in May 1948. Gaal's designs were used for commercial posters, agricultural and health care posters, exhibitions and emblems. For an extended period of his life, Matyas Gaal worked for IBUSZ (Touring, Traveling, Transport and Purchase Co.), Hungary's oldest travel agency that was nationalized in 1950. Gaal was also a poster collector and a portion of his collection is held in the Hungarian National Gallery in Budapest.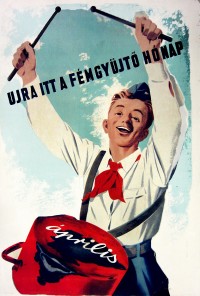 Sources & Citations
Meißner, G. (2005). Allgemeines Künstlerlexikon: Die bildenden Künstler aller Zeiten und Völker. München: Saur.
Munkácsi, P. (1965). Az 1961 és 1962: Evi grafikai plakátok és metszetek. Budapest: Országos Széchényi Könyvtár.
budapestposter.com