Gebhardt, Tibor Gonczi (Gönczi)
Гебхардт, Тибор Гончи


Born April 13, 1902 Austro-Hungarian Empire (Budapest); died November 20, 1993/94, Hungary

Tibor Gonczi Gebhardt was a poster artist and graphic designer in Hungary. Gebhardt was noted for his work in the Jugendstil or, Secession Style that was popular in Europe in the late 19th and early 20th centuries. In addition to posters, he designed book covers, emblems, menus, postage stamps, illustrations, commercial labels and other varying ephemera. He often signed his works using the pen name "Gönczi". Between 1918 and 1922, Gebhardt studied at the Iparművészeti Iskola (School for Applied Arts) in Budapest. During the 1920s, he produced decorative posters and was designing book covers. One notable work Gebhardt designed during this period was his cover for the 1925 Hungarian edition of "Dracula".

By the 1930s, Gebhardt began working as the graphic designer for György Klösz and Son Publishers and he worked for that firm's successor, Offset Press of Budapest. During World War II, Gebhardt designed posters for the Red Cross. After the war, he designed posters for the Communist Party of Hungary. By 1949, Gebhardt was a central figure in the propaganda office of the Soviet-backed Hungarian government. Of the numerous posters he created during the early years of the Hungarian People's Republic (1949-1991), many of them focused on national holidays, tourism, and themes that encompassed life under a seemingly vibrant, socialist paradise. The year of Tibor Gonczi Gebhardt's death is not finite. It is recorded in sources as having occurred in 1993 while alternatively, other sources cite the year 1994.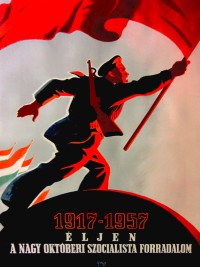 Sources & Citations
Berni, S. (2016). Dracula by Bram Stoker The Mystery of The Early Editions. Macerata: Bibliohaus. (Gebhardt, pp. 31-33)
Aulich, J., & Sylvestrová, M. (1999). Political posters in Central and Eastern Europe, 1945-1995: Signs of the times. Manchester: Manchester University Press. (posters of Gebhardt cited)
sulinet.hu (bio, Gebhardt)
budapestposter.com (bio, Gebhardt)