Goriaev, Vitalii Nikolaevich
Горяев, Виталий Николаевич


Born April 14, 1910, Kurgan, Russian Empire; died 1988, Moscow, USSR

Vitalii Nikolaevich Goriaev's artistic career began at the age of 11 when he published his first drawings in the regional newspaper Zabaikal'skii Rabochii [Zabaikalsky Worker]. By 1929 he was living in Moscow. While there, he befriended the artist and poet Vladimir Maiakovskii who advised him to enroll at the Moscow VKhUTEIN [Higher Art and Technical Institute]. When the Institute closed the following year, Goriaev transferred to the Moscow Polygraphic Institute where he studied under the artists Vladimir Favorsky, Sergeii Gerasimov and Dmitry Moor. In 1936, Goriaev's cartoons were being published in the satirical magazine Krokodil [Crocodile].

During World War II, Vitalii Goriaev produced forty-three posters for the TASS [State Telegraph Agency] studios before being appointed chief artist of the illustrated magazine Frontovoi iumor [Frontline Humor]. In the 1950s, his attention turned to book illustration.  His illustrations were published in editions of works by Alexander Pushkin, Nikolai Gogol, Fyodor Dostoevsky, Vladimir Maiakovskii, Mark Twain and William Faulkner, to name a few.
From 1955 to 1981, Goriaev served on the editorial board for Iunost' [Youth] magazine.

А trip to the United States in 1958 produced a highly regarded 40-image series titled "Amerikantsy u sebia doma" [Americans at Home]. He received a number of Soviet and international awards for his work, including the 1966 title of Honored Worker of the Arts of the Russian Soviet Federative Socialist Republic, the State Award of the USSR in 1967, and the gold medal at the 1971 International Book Art Exhibition in Leipzig. He exhibited in Prague, London, Bucharest, Berlin, New York, Paris and other major cities.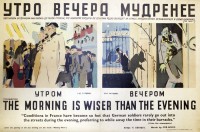 Sources & Citations
Zegers, P., et al. (2011). Windows on the war: Soviet TASS posters at home and abroad, 1941-1945. Chicago: Art Institute of Chicago. (p. 383)
Vol'tsenburg, O.E., et al. (1970). Biobibligraphicheskii slovar' khudozhniki narodov SSSR (Vol 3). Moscow: Iskusstvo.  (pp. 139-140)
Kostin, V.I. (1961). V. I. Goriaev. Moskva: Sovetskii Khudoznik. (a book on the life and career of Goriaev)
painters.artunion.ru (bio)
artist-mag.ru (bio)