Kaidalov, Vladimir Elpidiforovich
Кайдалов, Владимир Елпидифорович


Born August 27, 1907 Barnaul, Russian Empire; died 1985, Tashkent, USSR

Vladimir E. Kaidalov was born in the Altai region of Siberia. From 1927 to 1930, he studied at the studios of the AKhRR (Association of Artists of Revolutionary Russia). In 1932, he moved to Tashkent, Uzbekistan where he began his professional career as a graphic artist, painter and book illustrator. Creating designs that had themes both military and political in nature, Kaidalov applied his talents to the graphic serial "Socialist Tashkent" from 1939 to 1940. During World War II, he was called into military service and was sent to the Pacific Theater where he took part in the Battle of Manchuria, China. During the post-World War II era, Kaidalov was known in the USSR as a leading painter and graphic artist in Uzbekistan. Additionally, he was also noted for his woodcuts created for bookplate design. He was a member of the Union of Artists of the USSR and in 1957 he was bestowed the title "People's Artist of the Uzbek SSR".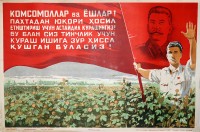 Sources & Citations
Pisch, A. (2016). The personality cult of Stalin in Soviet posters, 1929-1953: Archetypes, inventions and fabrications. Canberra: ANU Press. (Kaidalov's work cited throughout)
Filatova, M., & Bobrovinkova, V. (2013). Plakat Sovetskogo Vostoka, 1918-1940. Moskva: Izdatelʹskii dom Mardzhani.
Erlashova, S. M. (1971). Katalog Otdela Sovetskogo Vostoka: Zhivopisʹ, grafika, skulʹptura. Moskva: Izdatelstvo Iskustvo. (bio, P. 216)