Karimbeili (Karimbeyli), Zia Abdullovich
Каримбейли, Зия Абдуллович


Born 1922, Azerbaijan SSR; died 1975, location unknown, presumably USSR

Zia Abdullovich Karimbeili was a Soviet graphic artist and illustrator. In Azerbaijan, he was a pioneer in the genre of cartoons and in 1952, Karimbeili worked as an illustrator for the satirical magazine Kirpi (Hedgehog). The magazine was groundbreaking in its depiction of societal problems via the aid of humorous caricatures. Karimbeili was also an artist with Agitplakat, the Moscow-based artist collective formed in 1956. Soviet-era published sources alternatively cite the artist's name as Ziya Abdullovich Karimbeyli.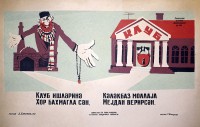 Sources & Citations
tramvaiiskusstv.ru (bio)
repository.upenn.edu/dissertations/AAI3565110/ (Agit-plakat: The destalinization of Soviet posters (1956–1966), Masha Kowell Ph.D.)