Klimashin, Viktor Semenovich
Климашин, Виктор Семенович


Born 1912, Tersa, Russian Empire; died 1960, Moscow, USSR

Victor Semenovich Klimashin was born in a small village in a rural section of the Saratov region. He studied art in the city of Saratov and after graduation in 1931, he moved to Moscow to work as a professional graphic designer of posters, magazines and books. During World War II, he was drafted for service and in 1943, he was assigned to the Military Artists Studio. It was in the Studio that many of his posters were produced in collaboration with the artist Nikolai Zhukov.

After the war, Klimashin was appointed head of the art department of Ogonyok [Sparkle], the largest weekly magazine in the Soviet Union at the time. Throughout the 1950s, he designed international exhibits for the Soviet Union including the Soviet Pavilion for the International Industrial Exhibition in Bombay, India (1952). In 1954, Klimashin was the chief artist behind the development of the Exhibition of Economic and Cultural Development of the USSR in Beijing, China.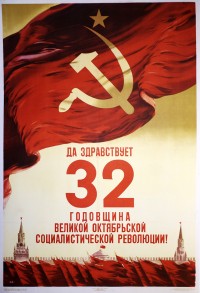 Sources & Citations
Snopkov, A. E., et al. (2006). Classic Russian posters. Moskva: Kontakt-Kulʹtura.
Groys, B., Hollein, M. (2003). Dream factory Communism: The visual culture of the Stalin era. Ostfildern-Ruit: Hatje Cantz.
Tupitsyn, M. (1995). Glaube, Hoffnung, Anpassung: Sowjetische Bilder, 1928-1945. Oberhausen: Plitt Verlag.
artrussian.com (Klimashin, bio)