Korobov, Alexander Alexeevich
Коробов, Александр Алексеевич


Born 1905, Dorogobuzh, Russian Empire; died 1977, Moscow, USSR

Aleksandr Alekseevich Korobov attended secondary school and drawing classes in Dorogobuzh, Smolensk Oblast. In 1923, he moved to the city of Smolensk and continued his studies at the Ministry of Public Education's IZO (Fine Arts) studio. To earn money, he worked as a staff artist at a regional newspaper and taught drawing at a middle school.

From 1925 to 1930, Korobov studied at the Moscow branch of VKhUTEIN [Higher State Artistic and Technical Institute]. While a student there, he joined the A.Kh.R.R. [Association of Artists of the Russian Revolution] in 1929. Upon graduation from VKhUTEIN, Korobov worked in Moscow and participated in All-Union artistic exhibitions. He also participated in the 11th Exhibition of A.Kh.R.R.'s "Art For The Masses" (1929), the 21st Exhibition of Hero Workers, Workers of Cooperation and Socialist Construction of the Third Year of The Five-Year Plan (1931) and, in 1933, he took part in the OSOAVIAKhIM [Society of Friends of Defense and Aviation-Chemical Construction] exhibit honoring the 15th Anniversary of the Red Army. In 1932, Korobov became a founding member of MOSSKh [Moscow Section of the Union of Soviet Artists], a group that later melded into the Artists' Union of the USSR.

After serving in World War II, Korobov worked in Moscow participating in monumental exhibitions. In the post-war period, he was a founding member of VOOPIK [All-Russian Society for the Protection of Monuments of History and Culture] an organization that oversaw the preservation and protection of architecture and art in the USSR. Korobov's paintings are held in numerous Russian museums and in private collections throughout the world.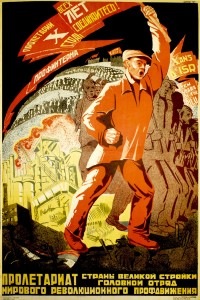 Sources & Citations
Vlasova, K. F. (1991). Moskovskie khudozniki: 20-30-e gody: katalog ; zivopis', grafika, skul'ptura. Moskva: Sovetskii Khudoznik. (p. 61)
tramvaiiskusstv.ru (bio)
artru.info (bio)
maslovka.info (exhibition dates)