Kroneval'd (Kronevald), Nikolai Nikolaevich
Кроневальд, Николай Николаевич


Born 1895, Astrakhan, Russian Empire; died, (date and location unknown, presumably USSR)

Although he was born in Astrakhan in southern Russia, Nikolai Nikolaevich Kronevald lived in Kazan for most of his life. Very little is known about Kronevald's personal life and historical information concerning the artist is scarce at best. However, one published source indicates that his family was of German descent. As a professional artist, Kronevald worked for the Tatar State Publishing House where he specialized in graphic art. In 1936, Kronevald was arrested for depicting a "fascist swastika" on a design he was creating. In 1937, he was convicted by the Special Board of the Main Court of the Tatar Autonomous Soviet Socialist Republic and, he was sent to prison. According to one source, Kronevald served a three-year term while another Russian-published source indicates he spent five to ten years in prison.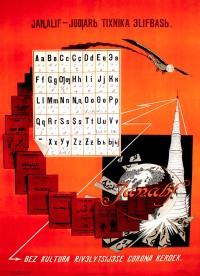 Sources & Citations
Khairullin, I. K., et al. (2000). Saiasi repressiia korbannarynyng khater kitaby: Kniga pamiati zhertv politicheskikh repressii. Kazan: Izdatelʹstvo Kniga Pamiati. (P. 284, bio on Kronevald)
Chervonnaia, S. M. (1978). Iskusstvo Sovetskoi Tatarii: Zhivopis', skulptura, grafika. Moskva: Izobraztel'stvo Iskusstvo. (P. 284, Kronevald cited in artist list)
Base.memo.ru (prison sentence terms cited)