Magidson, Adriana Solomonovna
Магидсон, Адриана Соломоновна


Born 1906, Moscow, Russian Empire; died 1980, Moscow, USSR

Adriana Solomonovna Magidson was a painter, a graphic artist, theatrical artist, and a designer of Soviet propaganda posters. She was a member of the Union of Artists of the USSR and a member of the A.Kh.R.R. (Association of Artists of Revolutionary Russia). In her youth, she studied at VKUTEMAS (Higher Art and Technical Studios) in Moscow. While a student, she participated in an internship at the Bolshoi Theater working in their decoration shop. Additionally, Magidson worked at the Meyerhold Theater in Moscow. In 1929, with her teacher Issak Moiseevich Rabinovich (a theatrical designer and producer), she created decorations for portions of Moscow's Gorky Central Park of Culture and Leisure. She also worked on the designs for the Moscow Automotive Society (ZiL) and on the design of the Veterinary Pavilion of the All-Union Agricultural Exhibition in Moscow. In the 1930s, she took part in the art brigades working on the decoration of cities.

As a painter, Magidson worked chiefly with landscapes. In the propaganda arts, she collaborated with Iskusstvo (Art Publishing House). Her work on political posters encompassed themes pertaining to women, industry, anti-religious activism and anti-imperialism sentiment. At times, her she co-designed with the artists Boris Iordanskii and Ivan Buev. Magidson also authored books (some of them co-authored with her husband Yuri Shchukin) such as, "Designing Mass Festivals", "Decorating a Town on Days of Revolutionary Festivals", and "Decorating [for] Holidays and Everyday Life".

Adriana Magidson participated in many exhibitions during her career including the 11th Exhibition of A.Kh.R.R.'s "Art For The Masses" (1929), the "Anti-Imperialist Exhibition" (1931) in Moscow's Gorky Park, the "Exhibition of Young Artists" (1934), and the "All-Union Exhibition of Soviet Artists" (1950, 1951).
Her death is recorded as having occurred in Moscow in 1980 but it is also documented as having occurred in 1981. In 1983, a retrospective of Magidson's art was held in Moscow. The Russian State Archives of Literature and Art (RGALI) holds a collection of her correspondence and literature.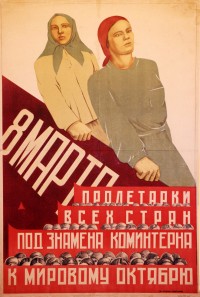 Sources & Citations
Witkovsky, M. S., & Fore, D. (2017). Revoliutsiia! Demonstratsiia!: Soviet art put to the test. Chicago: the Art Institute of Chicago. (p. 254, "Designing Mass Festivals" cited)
Woodruff, D., & Grubisic, L. (1997). Russian modernism: The Collections of the Getty Research Institute for the History of Art and the Humanities, 1. Santa Monica: The Getty Research Institute. (p. 90, "Decorating a Town on Days of Revolutionary Festivals" cited)
socrealizm.com.ua (1981 death year cited)
tramvaiiskusstv.ru (bio)