Maloletkov, Evgenii Stepanovich
Малолетков, Евгений Степанович


Born 1915, Moscow, Imperial Russia; died 1961, Moscow, USSR

The short but creative life of Evgenii Stepanovich Maloletkov stands out among the Soviet graphic artists of his era. Maloletkov principally worked as a cartoonist and poster artist during his brief career. Early on, he studied at the studio of Mikhail Leblan, the noted Russian painter. In the 1930s, Maloletkov was under the tutelage of painter Fedor Rerberg. From late 1930s into the early 1940s, he was enrolled at the Moscow State Art Institute. He worked as an artist in the advertising bureau of the People's Commissariat of Food and, he was a staff artist for Voenizdat (Military Publishing House). During World War II, Evgenii Maloletkov served in the military. In the postwar, the artist was a regular participant in regional and national exhibitions. In 1953, he began working for Izogiz State Publishing creating a host of posters covering the themes of society, agricultural, anti-imperialism and other issues. In addition, Maloletkov designed posters on industrial safety for Gosenergoizdat (State Publishing House of Literature on Energy).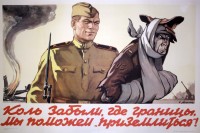 Sources & Citations
Snopkov, A.E., et al. (2004). Shestʹsot plakatov. Moscow, Kontakt-Kulʹtura. (bio on Maloletkov)
Milner, J. (1993). A dictionary of Russian and Soviet artists 1420-1970. Woodbridge: Antique Collectors' Club. (pp. 256, 332)
tramvaiiskusstv.ru (bio)