Meerson, Aleksandr Iakovlevich
Меерсон, Александр Яковлевич


Born 1922, (location unknown), USSR; died 1973, Moscow, USSR)

Very little biographical information is available about Aleksandr Iakovlevich Meerson. He graduated in 1941 from the Leningrad (St. Petersburg) Higher Art and Industrial School named for Vera Muhina. While he designed a number of political posters during his career; Meerson was chiefly noted for his stage and set design work in the theater.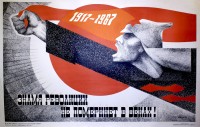 Sources & Citations
Baburina, N. I. (1988). The Soviet Political Poster, 1917-1980. New York: Penguin. (bio, artist)
Sviridova, I.A. (1975). Sovetskii politicheskii plakat, nekotorye tendentsii razvitiia plakata na sovremennom etape. Moskva: Izobrzitel'noe iskusstvo. (Meerson's 1917-1967 anniversary poster cited)
Forum.j-roots.info (ancestral query into Meerson states his death occurred in Moscow)