Mikhailov, Nikolai Ivanovich
Михайлов, Николай Иванович
Nikolai Mikhailov (alias N. Diomidi) was born in Kazan into a military family. In 1919, during the Russian Civil War, he fled Kazan with the retreating White Army and made his way to China where he worked as a theater artist in the Russian Theater in Harbin.
In 1923, Mikhailov returned to what had become Soviet Russia and he lived in a suburb of Moscow. In 1932 he was accepted to the Artists Union of the USSR. Mikhailov had a modestly successful artistic career as a painter and poster artist. His name appeared on AKhR (Associated Artists of the Revolution) posters as the designer from 1929 to 1930.
In 1935, after exhibiting a painting depicting the funeral of the assassinated Communist leader Sergei Kirov, the Directorate of the Artists Union received an "anonymous letter" indicating the image of death was seen in the background of Mikhailov's work. A special commission was convened to analyze the painting (poster artist Dmitry Moor was among the commission members) and it was concluded that Mikhailov knowingly painted the image of death in the scrutinized work
The artist was summoned before an "expanded Directorate" and then reportedly, '"behaved obnoxiously, denied the accusations, claimed that the painting was just a sketch, and threatened to kill himself"'. When questions about his past emerged (including his mysticism interest) all hope for his mercy was dashed. Directorate members expelled Mikhailov from the Union and his case was sent to the NKVD or, secret police. Mikhailov was subsequently arrested and sent to a labor camp. In 1937, he was sentenced to death. Details about his death are unclear. At least one source indicates he died in 1939 while another mentions he was released from the camp and died of a stroke in 1940.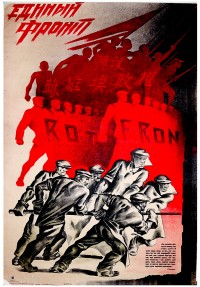 Sources & Citations
Galeev, I., Ulemnova, O. L. (2005). ARKHUMAS--kazanskii avangard 20kh: Gosudarstvennyi muzei izobrazitelʹnykh iskusstv Respubliki Tatarstan, g. Kazanʹ, Galereia "Art-Divazh", g. Moskva, 28 aprelia-6 iiunia 2005. Moskva: Skorpion. (birth and death information on Mikhailov)
Mercer and Middlesex Auction catalogs June 5, 2011 and June 30, 2012