O.S. [Sakhnovskaia, Elena (Olena) Borisovna]
О.С. [Сахновская, Елена (Олена) Борисовна]


Born March 15, 1902, Kiev, Russian Empire; died March 28, 1958, Moscow, USSR

Elena Borisovna Sakhnovskaia was born in Kiev and grew-up in Ukraine. She studied at the Ukrainian State Academy of Arts under the tutelage of Mykhailo L'vovich Boichuk, a Ukrainian monumental painter. Sakhnovskaia continued her studies at the art studio of Mykhailo's wife, Sofia Nalepinska-Boichuk (noted woodcut artist) and later, Sakhnovskaia went on to serve on faculty at the Kiev Art Institute. In 1919, she exhibited her work at the Red Army barracks in Kiev and at the pavilion of the Ukrainian SSR for the 1923 All-Russian Handicraft and Agricultural Exhibition in Moscow. Beginning in 1925, Sakhnovskaia became a member of the Association of Revolutionary Artists of Ukraine (ARMU). In 1934, she became a member of the Association of Independent Ukrainian Artists.

Sakhnovskaia was living in Moscow by 1932 and was working in book illustration while developing her easel painting technique. One of her most noted illustrations was used for the 1928 re-printing of Nikolai Gogol's classic, "The Night Before Christmas". While Sakhnovskaia made her living working on illustrations for literature (in particular children's books), bookplate design was her true specialty. In the mid-1930s, the artist's focus shifted to woodcut and lithography. Upon her death at age 55, she was buried in the New Don Cemetery southwest of Moscow.

While Sakhnovskaia signed her work with the initials O.S. (and the Collection contains work signed with these same initials) it is not certain the acquired work has been correctly attributed to the artist.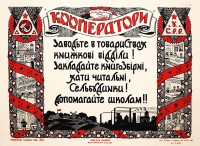 Sources & Citations
Sopocinskii, O. I., Veimarn, B. V. (1977). Sovetskoe izobrazitel'noe iskusstvo: 1917-1941. Moscow: Iskusstvo. (Dates of birth and death)
Women's History Research Center. (1975). Female artists, past and present. (P. 61, birth and death cited)
uartlib.org (Olena Sakhnovs'ka, bio)
fantlab.ru. (Olena Sakhnovs'ka, bio)
encyclopediaofukraine.com (Sakhnovs'ka cited in bio for Association of Independent Ukrainian Artists)
libking.ru (Noch' pered Rozhdestvom, Sakhnovs'ka cited as illustrator)