Pilar, Alexander Nikolaevich
Пилар, Александр Николаевич


Born August 9, 1912, Sevastopol', Russian Empire; died August 3, 1989, Tallinn, Estonian SSR

Alexandr Nikolaevich Pilar was born in Sevastopol', the son of an officer in the Imperial Black Sea Fleet. The family had noble roots of Germanic origin extending back to the heirs of the Pilar von Pilchau. Alexsandr Pilar was educated at various schools due to his father's military postings. In 1930, he initiated the study of art at Anatoli Kaigorodov's painting studio in Tallinn. Pilar later studied at the Estonian SSR State School of Art and Design from 1937 to 1941. In 1941, he was drafted into the Red Army due to the outbreak of the Second World War. From 1942 to 1944, he was the administrator of the Estonian SSR State Art Ensemble in Yaroslavl', RSFSR.

Alexsandr Pilar received the title of Honored Artist of the Estonian SSR and he was a member of the Estonian branch of the Union of Artists of the USSR. In Estonia, Pilar served as Executive Secretary of the local Artists' Union from 1959 to 1962 and again from 1969 to 1971.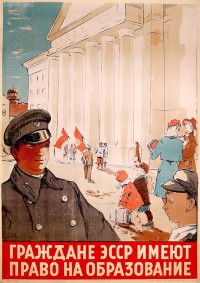 Sources & Citations
Volodin, V. I., & Volodina, N. A. (1983). Sovremennaia sovetskaia akvarel'. Moskva: Sovetskii khudozhnik. (p. 173, dates of schooling cited)
e-kunstisalong.ee (short bio)
bag-auction.eu (short bio)
tramvaiiskusstv.ru (bio)
ra.ee/fotis (photos of Pilar and data)
digar.ee (posters by Pilar cited)