Ruklevskii, Iakov Timofeevich
Руклевский, Яков Тимофеевич


Born 1894, Smolensk, Russian Empire; died 1965, Moscow, USSR

Throughout his career, Iakov Timofeevich Ruklevskii was noted for his graphic design and for his work on cinema posters. A self-taught artist, Ruklevskii became the head of poster production for Goskino (State Committee for Cinematography of the USSR) and helped pioneer cinema advertising in the USSR. His designs for Goskino tended to emulate the style of the Stenberg brothers (Vladimir and Georgii), the distinguished graphic designers from the 1920s and '30s with whom Ruklevskii collaborated. Iakov Ruklevskii contributed his poster designs to the First (1925) and Second (1926) Exhibitions of Film Posters in Moscow, and he exhibited at the International Exhibition of Decorative Arts in Monza, Italy in 1927. He also exhibited at the "Artists of the Russian Soviet Federated Socialist Republic over 15 Years" held at the State Historical Museum (1933, Moscow). Among Ruklevskii's famous cinema posters is the design he produced for "Oktober" (1927), the cinematic achievement from director Sergei Eisenstein.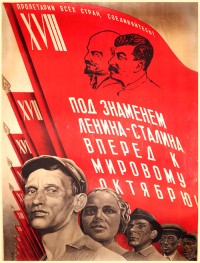 Sources & Citations
Pack, S. (2017). Film posters of the Russian avant-garde. Köln: Taschen Bibliotheca Universalis. (p. 501, bio)
Milner, J. (1993). A dictionary of Russian and Soviet artists 1420-1970. Woodbridge: Antique Collectors' Club. (p. 365, years of birth and death, career at Goskino)
Edwards, G.J. (1988). The Book of the International Film Poster. London: Tiger Books International, Ltd. (p. 45, the First Film Poster Exhibition of 1926 was held at the Kamerny Theatre in Moscow, cited therein, yet incorrect)
Voinov, V. (1927). Graficheskoe iskusstvo v SSSR: 1917-X-1927. Moskva: Akademiia khudozhestv SSSR. (p. 163, the 1st Exhibition of Film Posters was held at the Academy of Arts and Sciences in 1925 and the 2nd Exhibition in 1926 was at the Chamber [Kamerny] Theater, as cited)
Gosudarstvennogo Istoricheskogo muzeia. (1933) Khudozhniki RSFSR za XV let (1917-1932): katalog vystavki. Moskva. (p. 49, bio)
Reklamafilm.com (An exhibit also titled the 1st Exhibition of Film Posters was held by Film Committee of the People's Commissariat of Education in January 1919 in Moscow in the Ars movie theater, 61 Tverskaia Street)